Hi guys,
I've been bombarding you with images of new autumn/winter shoes and clothes over the last week, but actually, summer isn't over yet! And I definitely don't want to wish away this last month of precious sunshine, or start wearing my boots when I could still be feeling the air between my toes. In fact, I'm wearing a summer frock and flip flops as I'm typing. So in honour of that, here are
my favourite sale sandals
currently on Spartoo: my last hurrah to summer!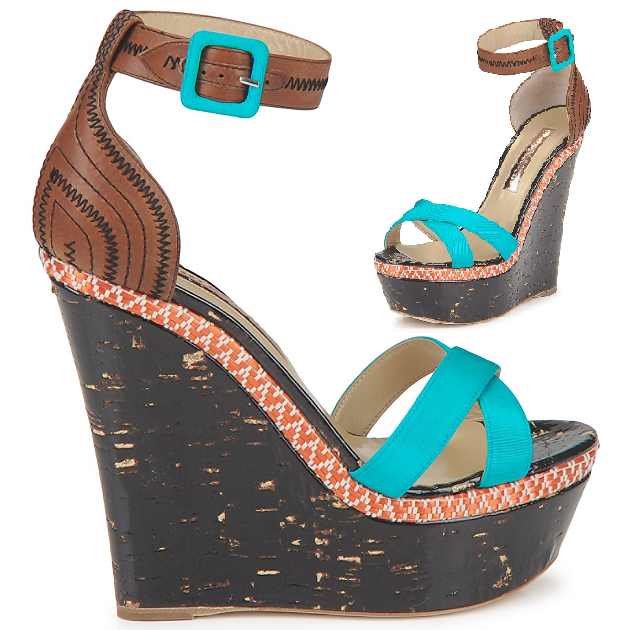 These
incredible Rupert Sanderson wedges
are currently a whopping 70% off. Instead of costing you £508.99 you could pick them up for £152.70: it's a damn bargain for a beautifully made shoe from a British designer! I just love the combination of colours: brown, tan, orange and turquoise all complement each other perfectly and they all scream summer (they also have the added bonus of looking incredible with a tan). I have a soft spot for Rupert Sanderson, in part because my office used to be right behind his London store, so I walked past the windows lusting after the shoes nearly every day. These shoes look like they've been worn on holiday and been scuffed from walking on the beach. They make you want to head to an expensive beach resort, team them with an oversized straw hat, and strut your stuff.
Fun fact:
Did you know that every pair of Rupert Sanderson shoes in named after a daffodil? This particular model is the Nissa. You'd only get that kind of random quirkiness from a British shoe designer!
What do you think of these shoes? Would you wear them, and what would you wear them with? My vote goes for floaty maxi dress: let's keep summer alive whilst we can!
Love Tor x
*Post written as part of an ongoing partnership with Spartoo