With the change of season we're all very quick to think we must ditch one seasonal wardrobe to switch for the new season. If only the climate was that simple. Weather is unpredictable at best during the change of seasons and so there is rarely a clean break between one and the other. When it comes to the end of summer, we're not always that keen to put away those bright and breezy pieces anyway. Fortunately adding a layer or two can be the perfect solution and there are so many different jackets out there that it is easy to transform a summer look into something that will work for autumn too.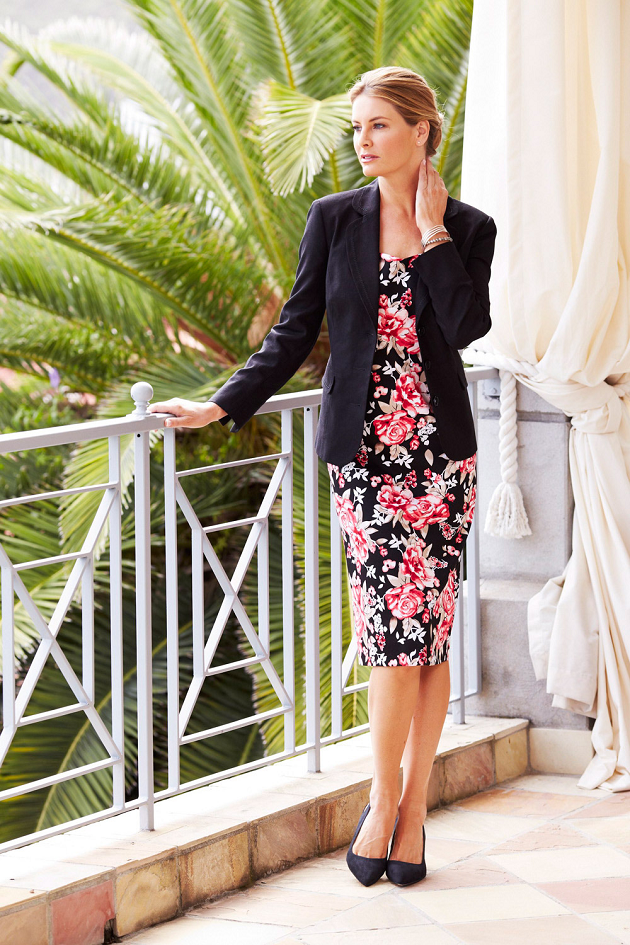 Working week
When it comes to your working week, over summer dresses or smart trousers and short sleeve blouses have probably paid a major part in your work wear wardrobe. There is no need to ditch them for your black trousers and jumpers as soon as the kids return to school and autumn begins. Adding a blazer style jacket adds both shape to your figure and can transform your summery work looks to smart autumnal outfits in an instant.
Sunday brunch
Those gorgeous cream chino style trousers that you've been enjoying all summer are still the perfect choice for a weekend get together with friends. Here you can again a blazer style jacket or go for a pretty boucle style collarless jacket for a classic elegant style statement. Something like the Bonmarché Textured Classic Jacket is a pretty additional layer.
A walk in the park
Days strolling with the dog in the summer are full of relaxed cropped trousers and tees. When it comes to autumn the days can be a bit cooler and certainly there is more chance of a spell of rain. It's not always cool enough to make the switch to chunky knits but an extra layer to keep out the wind and rain will be a welcome extra layer. A lightweight parka such as the Bonmarché Metallic Lightweight Parka will work with your crops or jeans easily.
A night on the town
There are some gorgeous relaxed waterfall and kimono style jackets available these days and they are the perfect cover up for a night on the tiles with your friends or a romantic date with your partner. Why not throw one of these on over smart summer Capri trousers and a pretty blouse? The David Emanuel Soft Waterfall Jacket is a pretty and bright choice. Add a pretty scarf or wrap for extra warmth when you leave the restaurant or pub too.
Autumn nuptials
Not everyone gets married in the summer and for autumn weddings there is the extra challenge of having to prepare for cooler weather. Your favourite summer wedding dress can still serve you well right into autumn.
A tailored jacket is a perfect layer
up for autumn weddings. It offers a formal look as well as adding curve appeal with its nipped in waist. A softer alternative to a jacket is a smart jacket style cardigan knit so consider these as well.
A weekend away
When the schools are back in for the autumn, it's the perfect time for the rest of us to take a quick getaway. So many more of us these days are making the most of everything Britain has to offer when it comes to holidays that a long weekend in the Lake District or exploring the stunning countryside in Scotland for example is just the ticket to enjoy the autumnal colours as they start to come in. Don't let the slight chill in the air put you off your exploring when a smart fleece or gilet can add that extra warmth you need. They look great with the relaxed cropped trousers you've been enjoying all summer and will be just as comfortable come winter with a sweater underneath.
*This is a post written by Sarah Fielding