Hi guys,
The last time I wrote about what was in my handbag was
back in March 2012
, and since then the contents have increased dramatically: no more tiny body bag filled with make up and basic essentials for me! But I'm not ready for a big ugly mum bag either: I want something on trend, made of buttery soft leather, but roomy enough for all of my supplies. And boy, do I have a lot of supplies! My handbag contents for today are: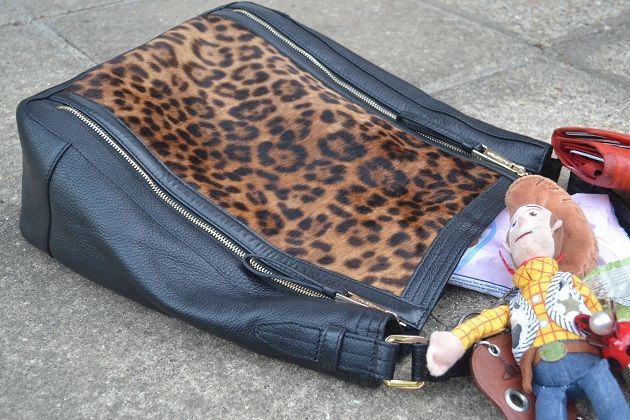 My Vivienne Westwood purse, house keys and car keys, mobile phone, Missoni sunglasses, Chanel lipstick and Filofax (just the same as last year). However the new additions are: rice cakes or carrot puffs (depending on what snacks the boy fancies for the day), a teddy bear and a rattle, and wet wipes to mop up any spills and snot. Oh the glamour!
With all of this stuff to carry around every single day, I require a pretty special bag. This
bag from Marks and Spencer's
new season
leather bag range
is the perfect size for just about any occasion; small enough to carry around everyday but roomy enough to stash a hearty supply of snacks and toys for Wilbur in. It feels so soft (I have a place in my heart for pony skin leather, and buy far too much of it!) and the leather literally melts under your hand as you carry it. I love the zip detailing and leopard print is another of my obsessions, so it really is the perfect bag for me.
This bag is one of the key leather items from Marks and Spencer's A/W '13 collection, and would be the perfect addition to a capsule winter wardrobe, because you could carry it all day (it's perfect for work or for Saturday afternoon shopping trips) or dress it up for the evening and it wouldn't look out of place to dinner: especially if you carry a big bag at all times, like me. Marks and Spencer are very focusing on quality with their leather offering for this season, and it definitely shows in the craftmanship and design of this bag. Good old M&S: they always seem to know exactly what I need and they never let me down!
If you want to buy one of your own you can pick it up from
the M&S website: It's available right now,
and will cost you £99.
Love Tor x