Hi guys,
It's Friday morning, which means I've taken a little break from my freelancing work (despite having three deadlines looming!) to do a little virtual shopping instead. Rainy weekends like this one are perfect for hitting the shops, and there are new season collections landing in nearly every high street store right now. Here are the pieces I wish I had in my wardrobe right now: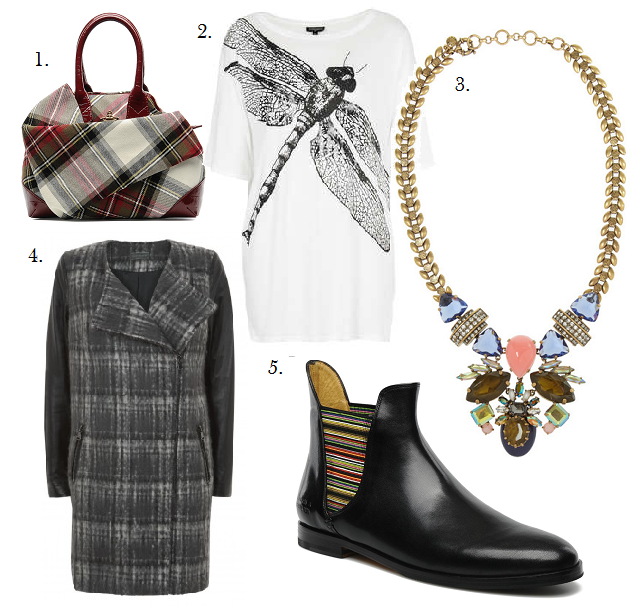 1. I love this draped
Vivienne Westwood bag from Sarenza
(£337.50) which would be the perfect statement piece for autumn/winter. I'm such a Vivienne Westwood addict, but I actually don't have a bag, so this is definitely the next big-purchase item on my wish list. The burgandy and brown tones would look great and match almost everything.
2. My insect obsession continues, so this oversized
dragon fly T shirt from Topshop
(£20) has got me feeling really excited. There's still time to enter my competition to win a £100 voucher to spend at Topshop (
click here!
) and then you could add this to your wardrobe too!
3. Everything I want at the minute is from autumn/winter collections: hang the summer, I'm an autumn lover at heart! At last count I had over 30 different coats, but as soon as they start landing in the shops they're all I want! This leather mix wool coat from Mint Velvet (£199) is next on my hit list.
4. I love statement necklaces, especially at the minute because I seem to spend my life wearing skinny jeans and basic tops which are really livened up with jewellery. This
J Crew statement necklace
from Net a Porter (£138) is such a great piece, and perfect if (like me) you're trying to avoid the dreaded green of high street jewellry!
5. I actually just ordered these
Melvin and Hamilton boots from Sarenza
(£119.50). I love the Missoni-style stripes that will match my Marc Jacobs change bag perfectly, and the leather is so shiny and supple-looking. These are really delicious and practical autumn boots!
Have you got your eye on anything new? And will you be hitting the shops this weekend? If so I'd love to know what you're looking for and what treasure you find!
Love Tor x