Hi guys,
When I got the email saying that the Sarenza summer sale had started, my stomach turned over a little in excitement. After all, the only thing more exciting than shoes is sale shoes! So I trawled through the site checking out all the amazing pretty summer shoes available at discounted prices (when there's still so much of the summer left!) and picked out some of my favourites/the biggest bargains. Here are my choices: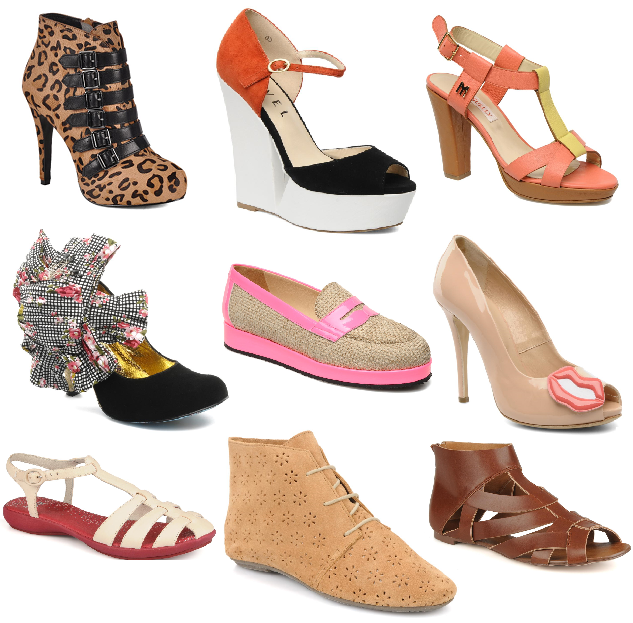 Ash Engima leopard print boots (60% off). Were £216 to £86.40
Ravel colour block wedges (50% off) Were £80 now £40
Peach Mysuelly heels (50% off) Were £236 now £118
Neon pink and beige Mysuelly flats (50% off) Were £236 now £118
Irregular Choice heels (50% off) Were £119 to £59.50
Paul and Betty neon lips heels (50% off) Were £216 to £108
Camper white sandals (50% off) £76 to £38
Jonak tan booties (50% off) Were £71 to £35.50
Brown chocolate Schubar sandals (50% off) Were £39 to £19.50
I think they're a little high for me, but I'm giving serious consideration to those colour block wedges from Ravel: they're just perfect for summer and I have an orange dress they would look fabulous with. Although it's not so good a look when I wobble and fall off them! The second pair I love (and the obvious choice for me) are the Paul and Betty lip heels: Everyone needs a nude heel in their shoe wardrobe armoury, but these are a quirky and unusual way of wearing them. I just can't resist!
Sarenza
have also had a site redesign in the past couple of weeks: the design is now more funky and streamlined. But more importantly, it's now compatible to be used easily on your phone and tablet: dangerous for me as it means I can shop for shoes on the move. Gulp!
Love Tor x
* I am a
Sarenza
brand ambassador