Hi guys,
This Thursday is National Kissing Day: A day to pucker up and get your smooch on!
National Kissing Day
is a UK-wide awareness campaign running on 20th June 2013 and research reveals that 65% of people will celebrate the day with a digital kiss - I, for one, tend to always add a kiss or two at the end of every email I send. Which I know isn't very professional, but it's a digital instinct I don't really even think about. However I am much more interested in some smooch-y fashion, and lip prints are just 'So hot-right-now'!.
Here are a couple of options that seem just perfect for wearing for National Kissing Day: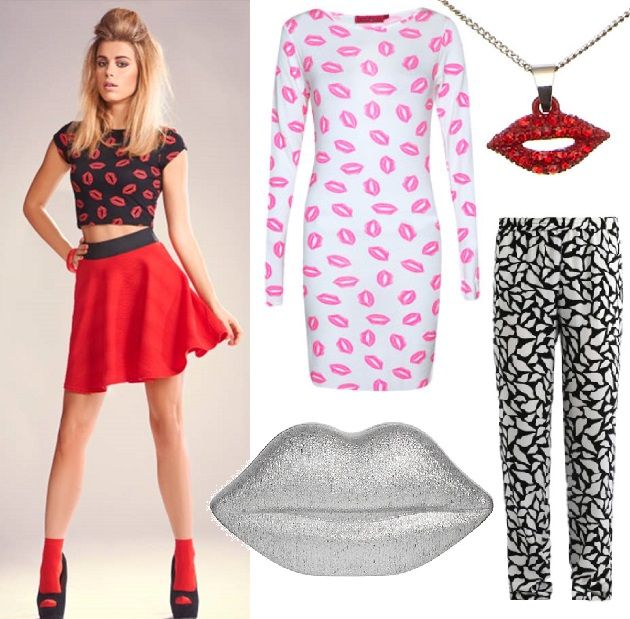 Model shot: Top from
Quiz
, £10.99
Pink and white lip print dress,
Boohoo.com
, £16
'Kiss me' pendant necklace,
Accessorize
, £6
Lulu Guiness silver lips clutch,
John Lewis
, £245
Diane Von Furstenberg trousers,
Matches.com
, £112
I have always wanted one of these Lulu Guiness lip clutches: I lust after them at their press day every season! I also really like the DVF trousers which are a more subtle take on the lip print, and would look so gorgeous worn all summer long teamed with metallic sandals and a simple black or white vest. For a more subtle and affordable take though, realistically I will end up wearing a lip necklace like the Accessorize one: add a simple chiffon top and skinny jeans and I'm ready to go!
When you have an active little man like Wilbur, being forced to find the time to take five minutes for yourself and have a good old snog with your husband can only be a good thing! Will you be having a kiss for National Kissing Day? And will you be wearing something red/pink/kiss themed for the occasion?
Love Tor x