Hi guys,
Sometimes I hear something that puts a song lyric into my head and I just can't get it out: hence the title of today's post. Because it's all about my latest online shopping discovery:
seasonsclothing.co.uk
. Which immediately made me start singing
The Byrds 'To everything there is a season'
. Over and over again in my head. In fact, I'm doing it now! Anyway, I digress....
Like most websites, its name doesn't actually give anything away about it, so let me explain. Seasons is a designer clothes site featuring a myriad of amazing designers, including Acne, Alice Temperley, Marc by Marc Jacobs, See by Chloe and many many more. Before I started writing this post I spent over an hour creating a virtual shopping list on the site: I didn't intend to, but there were just so many things I wanted, and once I start creating wishlists I just can't stop! Check out all the great pieces I'll be wearing this season (see what I did there?) when that lottery win finally comes in: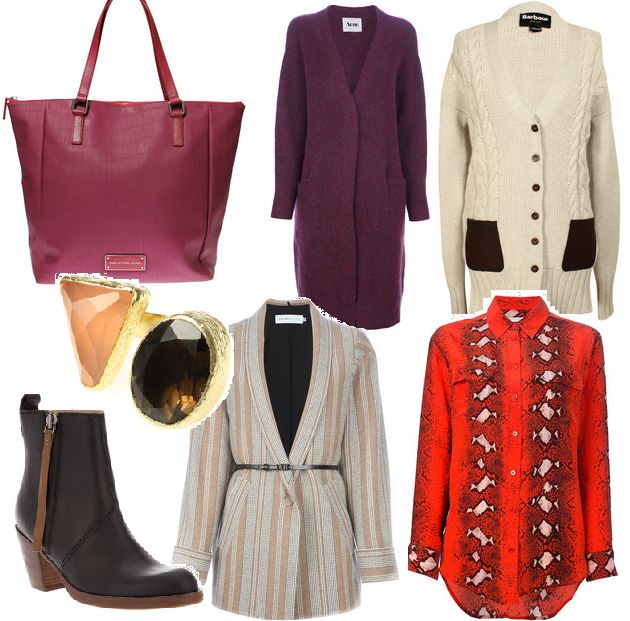 Marc by Marc Jacobs tote bag, £143.50
Acne burgandy knit cardigan, £260
Barbour chunky knit, £195
Aamaya-by-Priyanka ring, £175
Acne short boots, £360
See by Chloe oversized jacket, £570
Equipment snakeskin shirt, £280
This whole moodboard is pretty much how I envisage my new mummy wardrobe will look. Of course realistically it's likely to be more pajama heavy, and covered in more baby sick than this, but a girl can dream! I really love the snakeskin shirt, which would look amazing teamed with either leather leggings or waxed jeans.
Live t'up North? Then your in luck! As well as exploring the website, you can visit an actual Seasons store! The brand have two stores: one in the Devonshire Quarter in Sheffield and one in the Victoria Quarter in Leeds.
Love Tor xx
*This is a sponsored post