Hi guys,
Well London Fashion Week has officially started. And last night I went to my first show- Fearne Cotton's latest SS13 offering for
Very.co.uk
. The show was held in the ballroom at Claridges (a very impressive venue) and there was an equally impressive guest list.
I'm a terrible celeb spotter, but I saw Jo Wood (Fearne's soon to be mother-in-law) Milly Mackintosh and Professor Green, Keith Lemon, Bo Bruce (from The Voice) Reggie Yates, Davina McCall, and Mischa B of X Factor fame. No doubt someone with a better eye than we would have doubled this celeb spot count. Fearne's soon to be sister-in-law Leah Wood also walked the catwalk, and afterwards Fearne described her as her 'muse'. If only this were a celeb blog, eh?! Instead, let's talk about the fashion show.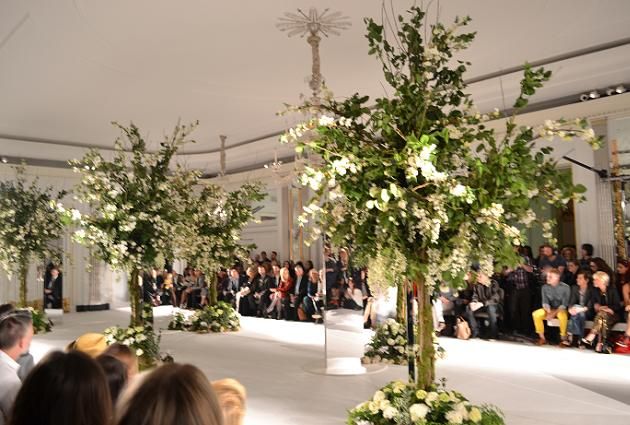 The theme was English country garden, and the catwalk was covered in quintessentially English trees. Naturally this was reflected in the clothes: the opening pieces were bedecked in floral. There was also lace, bright coloured leopard inspired prints, and a lovely traditional mac which had been given a vintage 1960s twist. As has become Fearne's signature, sheer and chiffon cut outs also featured on several of the dresses.
There were a couple of dubious items (I'm thinking of the capri-length jeans with the fluoro pink go-faster stripe down the sides and the green heart print tee) but there was also a couple of pieces I loved- I can't wait to get my hands on one particular maroon jumpsuit! Truthfully, the collection wasn't really to my personal taste, but the pieces I liked most were the simple minimalistic ones, which really focused on good clean lines: something you don't often find on the highstreet. And for the finale piece.....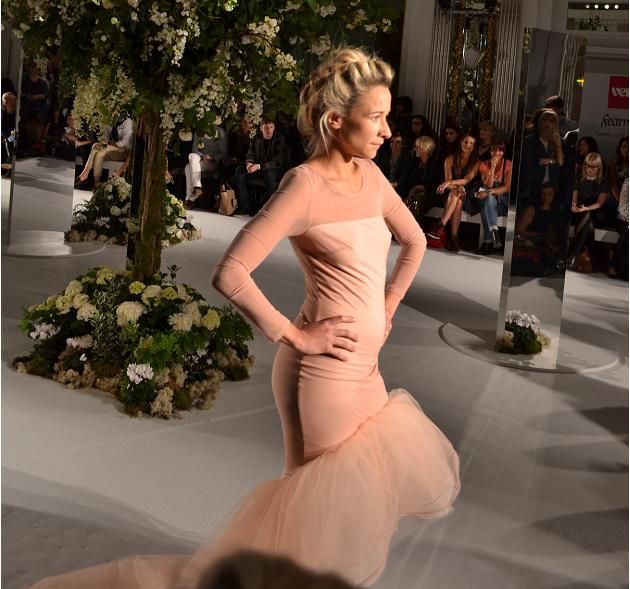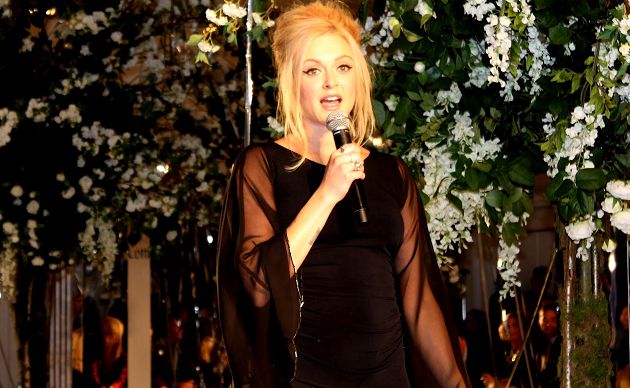 The lady herself looked lovely, wearing a floor length fitted black dress with sheer sleeves, also from her own collection, and with her hair piled high in a retro beehive. Are you a fan of Fearne's previous Very.co.uk ranges? Do you own any pieces from her collections, and what's the quality like? I'd love to hear your thoughts.
Love Tor xx
PS - I am aware it's not OK to hate celebs for being prettier than you. But am I allowed to hate Fearne just a little for looking so glowing and fresh faced whilst sporting her tidy pregnancy bump? It just seems terribly unfair that she can still look so beautiful. I meanwhile look like a whale!