Hi guys,
I may not be dancing around my living room like a far-too-chirpy penguin, but I have definitely got Happy Feet! My new
Love Moschino brogues
with the heart stud details from Sarenza have just arrived, and I am completely in love with them!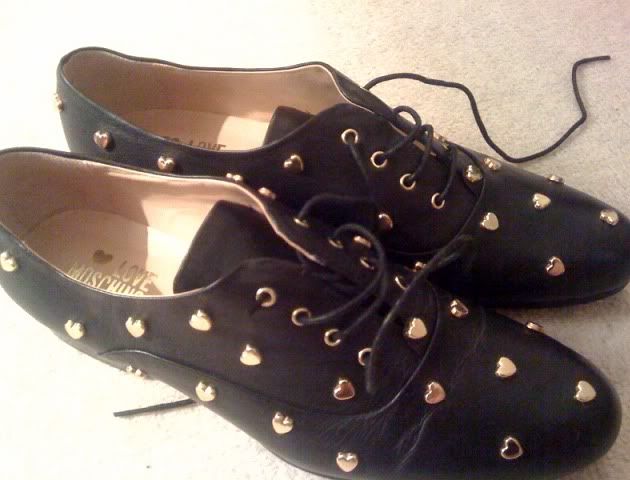 They were reduced by 30% in the sale, making them £160 rather than £229. And I don't think it would be an exageration to say they are my dream shoes. Although I love them, the fact is that I rarely wear heels during the day anymore: I just can't stand the discomfort when my day is already too busy and full of other things to think about. I tend to slip into my black pumps that match everything, but aren't exactly fashion-forward. So these comfortable brogues covered in attention grabbing gold heart-shaped studs (perfect for matching to all my jewellery and my two favourite handbags) are guarenteed to fit into my wardrobe perfectly, and make my everyday feet look a little more fashionable.
One of the best things about getting new shoes is mentally shopping your wardrobe for things you can team with them to create the perfect outfit and show them off!
I for one, will be very disappointed when the trend for masculine footwear disappears. Why should boys get all the comfy feet fun?! It's lovely to be able to run for the bus or spend hours scooting around the shops without having to worry about my ankles aching, or worse still, breaking them!
The
Sarenza sale
is still on, with up to 60% off and loads of great styles still available, so why not pop over and check it out? You never know, you might find your dream pair of shoes too!
Love, Tor xxx