Hi guys,
Well, the time has come to announce the winner of my
Brand Alley
competition. I couldn't believe how many of you entered, or how close some of your guesses were!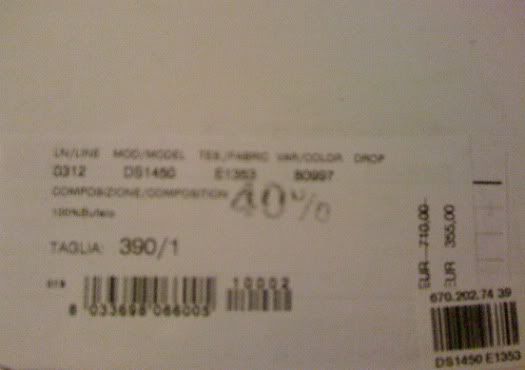 So now to reveal the RRP of my £100 spend: The D&G shoes were 710 euros (see label above for evidence) which I have converted to £600.06p, using today's rates. The umbrella rrp'ed at £35 and the Clinique exfoiliator rrp'ed at £16.50. That means that for less than £100, the grand RRP total of my shopping trip was £651.56p
....Which means the winner is....EmmaBarron, with a crazily close guess of £654!! Congratulations! Emma: drop me an
email here
so that I pass your email address to Brand Alley, who will sort out your voucher!
I, for one, couldn't believe how high the rrp of those shoes were: I was sure they would throw you off the scent, but you clever folks obviously know your shoes!
I've got more competitions coming over the next couple of weeks, so if you didn't win today, better luck next time!
Love, Tor xx