Hi guys,
Sorry I haven't posted for a couple of days: working a full time job, planning a wedding, and keeping this blog up to date has been a massive task I just haven't been able to keep up with this week. Time for a big tick in the 'must try harder' box, methinks!
Yesterday I combined wedding tasks with fashion, and tried on my outfit for our big family dinner, which we're having the night before the wedding. I'd ordered those Dolce and Gabanna shoes from Brand Alley specifically to go with this outfit (they match the gold beads in the dress) but hadn't gotten round to trying it all on together until last night. Please excuse my lack of make up, and unstraightened weekend hair: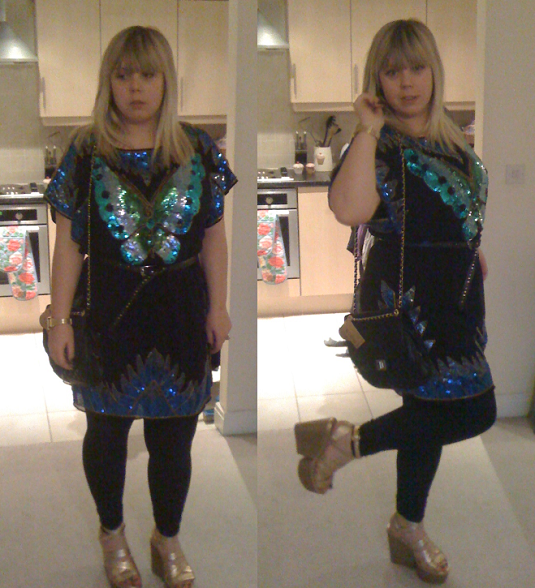 The shoes are D&G (from BrandAlley) and the dress was a bargain in the Monsoon sale about 6 months ago: I saw it, knew it would be perfect for the ocassion, and have had it hanging impatiently in my wardrobe ever since. I accessorised pretty simply with a black and gold Marc b bag, a skinny black belt, and my Timex watch (timekeeping and watch wearing are going to be pretty essential on that day, of all days!)
I love this outfit: its fairly simple and easy to throw on (which suits my low maintanence dressing style) but it has sequins and glitter and gold to appease my inner ten year old. My instinct is to add a bigger waist-cinching belt and an oversized necklace (this is always my dressing instinct) but I think the dress is so eyecatching it just doesn't need anything else. What do you guys think?
Love, Tor xx