Hi guys,
How's fashion week treating you all? My week started slowly, but yesterday was a great day. I love fashion week, not only for the shows, but also because I love mingling with other bloggers and checking out when all the stylish people on the streets are wearing: I always prefer to get my style inspiration from real people than from celebs and other unattainable peoples. I'll start writing up yesterday's shows asap, but for now here's some amazing footage from the presentation I was most gutted to miss on Friday:
I cannot tell you how disappointed I was to miss the Ada Zanditon presentation. I always love Zanditon's sharp angles and architectural designs, and this video inspired by the collection and directed by Andrew and William Ho had my mouth watering. It starts slowly but bear with it: about 30 seconds in you will see gorgeous dresses and hot make up- prepare to lust!
The collection was called "The Cryoflux" and has been proclaimed as the designers most beautiful and wearable to date. The collection comprised of lots of navy and black with flashes of orange, sculptural silhouettes and massive overtones of modern science fiction.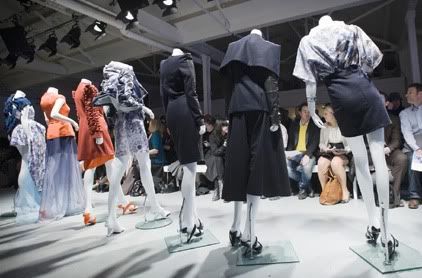 What does "The Cryoflux" actually mean? I have no idea, and even when I read this explanation it's no clearer to me, but it sounds both exciting and empowering: "Under the frozen surface of Jupiter's moon Europa, has evolved a new species: The Cryoflux. Descending onto earth she arrives in the barren darkness of the Antarctic winter, to explore a frozen world in an unfamiliar state of flux. Clothed in powerfully sculptured attire, encompassing vibrant flames and ice shattering prints, she reflects her surroundings. She voyages through the tenacious climate which is constantly cracking and reforming around her."
My favourite piece is the rich orange pea coat with the oversize sculptural sleeves. It's the first piece i've seen this season that i've been desperate to add to my own wardrobe. I'll say it again for emphasis: I cannot believe I missed this show!
Love, Tor xx