You guys know how I feel about shoes: I sometimes think addict isn't a strong enough word! So you can imagine how delighted I was when
Sarenza
approached me and asked if I would like to take part in their bloggers challenge: the winner gets a shopping weekend in Paris
and
taking part in the challenge meant I would have to choose some shoes for them to send me. How could I say no?!
Well my shoes arrived last week, and I couldn't be more pleased. I couldn't decide whether to opt for sensible flats (I was torn between some lovely gladiators and a crazy pair of cowboy boots) but in the end my head was turned by the slightly less sensible sight of these
snake skin wedges
.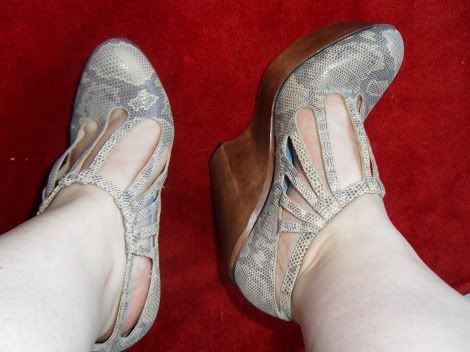 The shoes are from the
Sarenza continental fashion findings
collection: over 50 brands from all over Europe gathered together in one place including Paul and Joe sister, Miss Sixty, and Art. My lovely pair are from French brand Cosmo. I'd never heard of them before but I love their mix of colour and texture on both sensible flats and glam heels. When I saw these wedges I immediately thought of 50 outfits in my wardrobe they would look great with.
Ah the joys of the frowny self-taken photograph at 7am, not knowing what to do with my arms, and the pasty-white British winter legs! I am slightly in love with my dress and tulle skirted mac from the Topshop sale though.
And now on to the blogger challenge part of our programme: At the beginning of next month, the pics of me showing off in my new shoes will go onto the
Sarenza blog
.You'll be able to vote for me (and my excellent taste in shoes) and help me win that trip to Paris: once again, Fabfrocks needs you! (although of course i'll remind you all of that nearer the time!)
Love, Tor xx