My denim jacket has been getting a lot of wear over the past week or so. As the weather goes up and down i've found I need something to cover me up a little on the walk to work, but nothing too heavy to carry for the rest of the day when I won't want to wear it. Enter my denim jacket: the most hard-working item in my summer wardrobe. I love its light, almost white colouring, but sadly this means it needs washing all the time: I can't bear the wait whilst it's drying!
Here's how i've been wearing it over the past couple of weeks: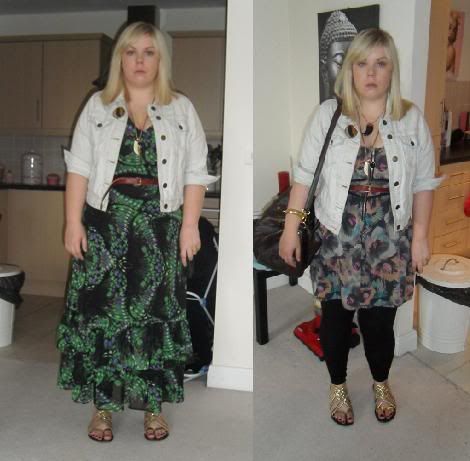 The left dress is from Simply Yours, the right dress is from New Look. The shoes are from faith, the belt is Topshop and my trusty jacket is last seasons Primark. The brooch on the jacket is an antique and was my decoy birthday present from Mike: I love it almost as much as I love my ring!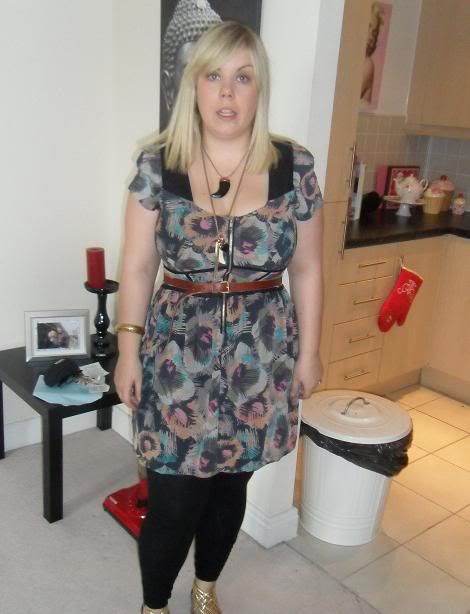 If we ignore my "i'm in the middle of a sentence" face, I really love this dress: It is from the New Look limited collection and was in the sale for £12. I picked it up about 6 weeks ago, and it's gotten loads of wear since. I love the panelling and zip details: i'm not wearing the best bra with it here though, my boobs look especially low and heavy.
Do you have any pieces of clothing you're wearing over and over again this summer? Maybe one you didn't expect to be wearing so often? Funnily enough I used to hate denim jackets (the time when I wore one every day in the late nineties just didn't seem far enough away) but now I can't get enough of them!
Love, Tor xx