I was suprised to discover i've only written about fragrance once or twice before: i'm a complete fragrance addict, and a spritz of a really good perfume can really brighten up my day. Last Thursday I left the house without putting any on, and didn't realise until i'd got to the ground floor of our block: I had to turn straight back round and apply some perfume, or my day would've been spoilt!!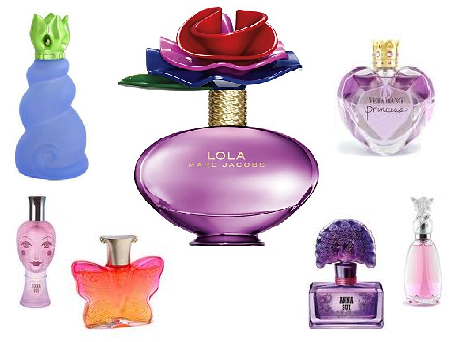 I love sweet and feminine fragrances: I think my tastes are still a little young and girly. I read somewhere that your fragrance tastes mature as you get older because your sense of smell is continually changing, which is why people in their 40s+ tend to like musky fragrances and younger people like sweeter ones. Perhaps I have an immature nose! I love Anna Sui (almost every single fragrance, although I have a soft spot for
flight of fancy
) Vera Wang
Princess
, and the latest edition to my reportoire is Marc Jacobs
Lola
, which was a Christmas gift from my parents that I have since replaced, because I totally fell in love with it! Before it was discontinued Nina Ricci
Les Belles de Ricci
was my signiture scent, and I haven't found it's replacement yet: I wear a different fragrance every day, and they each make me feel different things.
I do want to secure a signature fragrance though, one you can smell and immediately associate with me. And as much as I love the Gwen Stefani perfumes, I think i'm a little old to be buying perfume based on the fact I like the doll on the bottle! I read in one of my many bridal magazines (sorry more wedding talk!) that you should buy a new perfume to wear on your wedding day, that way whenever you smell the scent it whisks you back to that day. I think this is a really good idea, especially if, like me, your sense of smell is strong and does help evoke happy memories.
So I need to find a wedding day scent. And I want that wedding day scent to become my signature scent: but I don't know where to even begin with finding it! When you walk through a perfume counter the smells are so overwhelming they all merge into one, and just end up giving me a headache! So i'm turning it over to you guys (you've always helped me out before!) What's your favourite perfume? Do you have any recommendations for a scent you could wear every day and never get bored? I need a new perfume anyway, so it would be nice to combine both shopping trips, and have a sense of purpose around the perfume counters for a change! All suggestions gratefully received!!
Love, Tor xx