Hi guys,
Despite the fact that it's 30 degrees outside today (and I'm wearing a floral sun dress) my mind is now firmly fixed on autumn/winter fashions, and all the sunny days the weather gods throw at us won't be distracting me! Autumn/Winter is my favourite fashion season by far, and I would start shopping for it in July if I could! I want to look at
new season shoes
, new season coats, pretty party dresses (yes, Christmas party season is nearly here!) and fabulous jumpers I can slouch about in as part of my skinny jeans/nice top new uniform! As usual, I will be checking out the best of all the new season collections from all of my favourite stores. Let's start with French Connection, where I've never seen a party dress I didn't like,. To mix things up a little, this year I will pick my favourite three pieces from any given store, which means I will have to edit all my favourites much more strictly and will give you an easy overview of what the new season collections have to offer: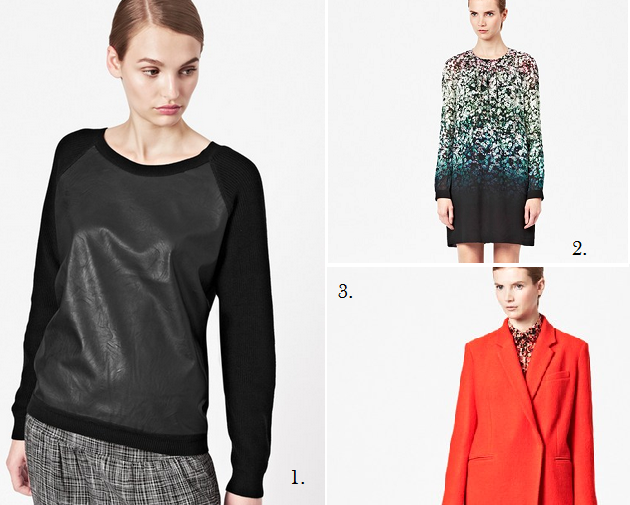 1. London Texture Front Jumper, £59. I love, love, love this
leather fronted jumper
. In fact, it is my favourite piece on the whole site, and I plan on making a beeline to my local French Connection store to pick it up immediately. It will look fantastic worn casually with skinny jeans and studded boots. But could be dressed up paired with opaque tights and a vibrant coloured pencil skirt. You could even add a metallic sequinned mini skirt and have a too cool for school party look. I love this versatile jumper: get in my wardrobe!
2.Hedgerow bottom tunic dress, £120. Digitally printed for an intense ombre effect, this floral tunic dress is another versatile little number. Add heels and a glitzy clutch for the evening, or high gloss flat pumps and a fitted black blazer for a super-stylish office look. I've been a fan of digital prints since the very first Matthew Williamson digital rose print hit the runway, so I always have a soft spot in my heart for dresses like this. And I love this loose undone shape too: dresses like these were made for new mums like me!
3.Belle boucle wool coat, £220. Finally, how could I write about a winter season collection without mentioning my very favourite winter piece of all: the coat! I have over thirty coats in my wardrobe but I don't have an orange one, meaning I have the perfect excuse to add this to my collection. I enjoy the oversized and masculine proportions of this boucle coat, as well as it's glorious and bright tangerine shade. I would wear this open over a chiffon blouse and team it with leather leggings: this fabric would look fab contrasted with the mixed textures of the leather and the chiffon. Winter heaven!
What do you think of the latest collections from French Connection? And what do you think of my picks? I'd love to hear your thoughts!
Love Tor x
*This post is sponsored by Spreaditfast