Hi guys,
One of the things you can predict every year about London Fashion Week is that so many brands jump on the fashion week bandwagon and rush to promote designers/collaborate with designers/offer fashion week related competitions to show that they're on the pulse, ahead of the curve, just still
relevant
. I saw a shocking example of this on the New Look Facebook page, where they had posted images in an album entitled 'London Fashion Week street style' and the images were of such poor quality it was clear they had been taken by someone with a fairly abysmal camera without the confidence to approach anyone and ask to take their picture. Sometimes it's better not to have any LFW content than it is to have content of such poor quality: really, what does that say about your brand?

One designer/retailer pairing that I am a big fan of though is the Holly Fulton for eBay capsule collection. The exclusive edit is only available for a limited period and includes a mix of great pieces either exclusively produced or drawn from AW13, including two sweaters with screen-printed motifs and art deco necklaces embellished with Swarovski crystals.The collection is fixed price, not an auction, and the pieces range from £70-£120. I really like the art deco necklaces, and I love the way they have been styled with button up shirts for the promo images: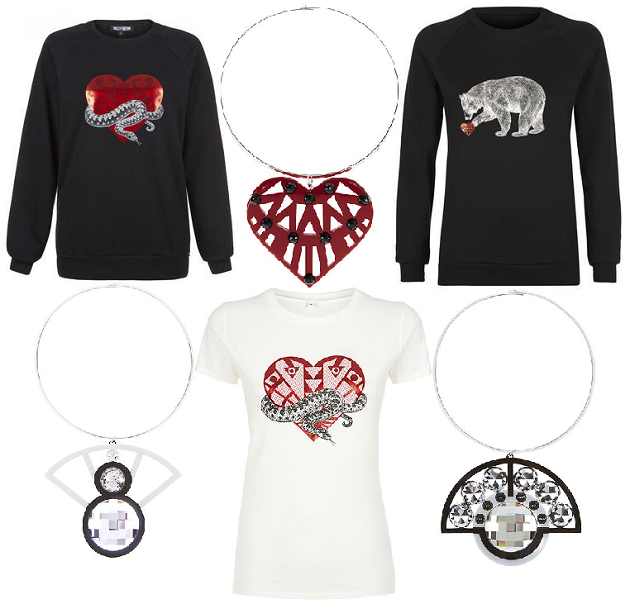 This is a collaboration that makes sense because ebay are sponsoring the BFC's Fashion Forward initiative, so it is a London Fashion Week offering that has substance, that makes sense, and the products are actually wearable and covetable. There are only another 24 hours to shop this, so if you're interested,
head over and check it out now!
Love Tor x