Hi guys,
Vogue's Online Fashion Week started today, and runs until Friday 7th December. Loads of big brands are getting involved in the event and offering big discounts just perfect for either Christmas shopping or (even better) picking out that perfect Christmas party dress. Here are some of the great deals available this week: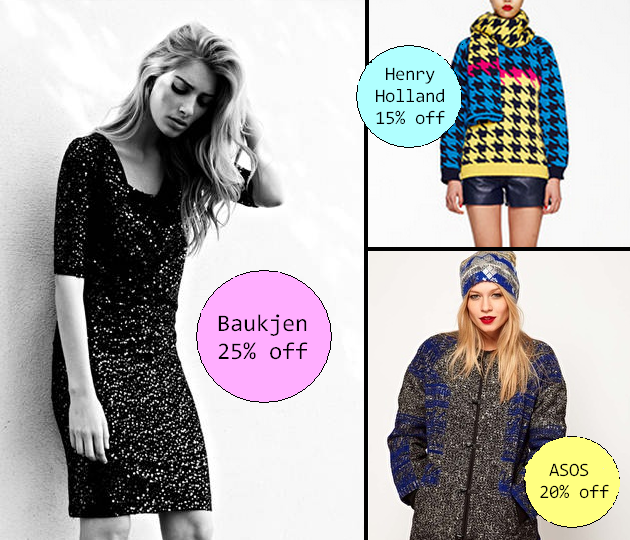 - Baukjen are offering 50% off the top two LBD's on their site: The Sleeveless Drape Dress and The Asymmetric Neck Dress perfect for the party season. They're also offering 25% off the category 'Vogue Online Fashion Week' on their website and Free Delivery with the code VOGUE25. You can take advantage of these fantastic offers by visiting
Baukjen.com
and entering the code VOGUE25 at the checkout.
- Henry Holland are offering 15% off their winter wardobe essentials: think cozy scarfs and chunky knits (
view the collection here.)
To take advantage of this offer just enter the code VOGUEOFW in at the checkout. The deal is running all the way through until Friday.
- This is a deal you'll have to act fast on if you want to take advantage of it, as it isn't running all week. But
Jigsaw
is offering 10 per cent off all online orders until midnight tonight as part of Online Fashion Week by entering VOGUEOFW at the checkout when you pay. Every shopper will also be automatically entered into a prize draw to win a cashmere scarf.
- Finally, that online favourite ASOS is offering 20 per cent off their
ASOS Collection
range by entering the code PARTY20 at check out. This is my favourite offer of all of the ones I've found so far (I really like the ASOS Collection stuff) and again, this deal runs until Friday, giving you plenty of time to pick the pieces you want.
I'm sure loads of other great deals will also pop us as the week progresses: I'll be tweeting all of the best ones, so make sure you're
following me on twitter
to keep up to date with all the Online Fashion Week bargains.
Love Tor xx