Hi guys,
Yesterday I went out and picked out my new party dress for the season from Matalan (outfit post to follow): much later than usual for me to be choosing my festive frock, but it was hard to try one on when I was sporting the mahusive bump! Dress chosen, now I need to find the perfect shoes. And I've been looking at the
women's party shoes from Clarks.
It's been a couple of months since I properly wore heels, so I want to break myself back in gently and guarantee that the party heels I choose are going to be comfortable to walk and maybe even dance (if the mood takes me!) in. And that's a guarantee that comes with pretty-much every pair of shoes from Clarks, in my experience. In fact, my Clarks heeled brogues were the only pair of heels I wore at the end of my pregnancy whenever a fancy occasion called for them. So I headed straight over to the Clarks website to check out their more glitzy seasonal options. Here are my picks: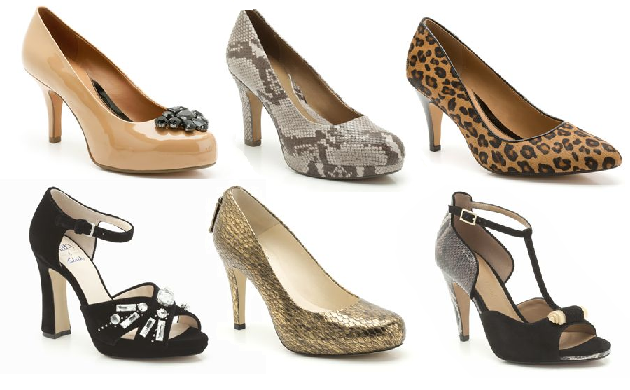 Nude court shoes with jewel details, £49.99
Snake skin court shoes, £54.99
Animal print shoes, £69.99
Vintage inspired sandals, £84.99
Gold leather court shoes, £89.99
Black leather and snake skin sandals, £69.99
They're all gorgeous shoes, but of course I have a favourite. I really love the black vintage-style sandals with their unusual shaped heel and bling detailing across the toes: they'd go with just about everything, they're versatile but eye catching at the same time. Definitely top of my list of options!
Have you picked out your party frock yet? And are you buying new shoes to go with it? I'd love to hear all about your Christmas outfit: let's share inspiration!
Love Tor xx
*This is a sponsored post