Hi guys,
Another glorious Monday! Monday is my favourite day to create shopping wishlists: it's amazing how a little harmless Monday lunchtime browsing can make the week suddenly seem manageable again, isn't it? All of my virtual shopping this week has been pregnancy related, and as I'm guessing you don't want to see which moses basket or crib I'm thinking of buying (and frankly, who can blame you!) I've decided to filter this down to all of my current fashion wants.
In terms of my growing girth, I have reached the point where I can no longer zip up my fitted dresses/skirts/jeans. Which means it's time to hit the shops and check out some maternity clothes. Gulp. So here's everything I'm currently wishing for. Apart from my waistline back, of course: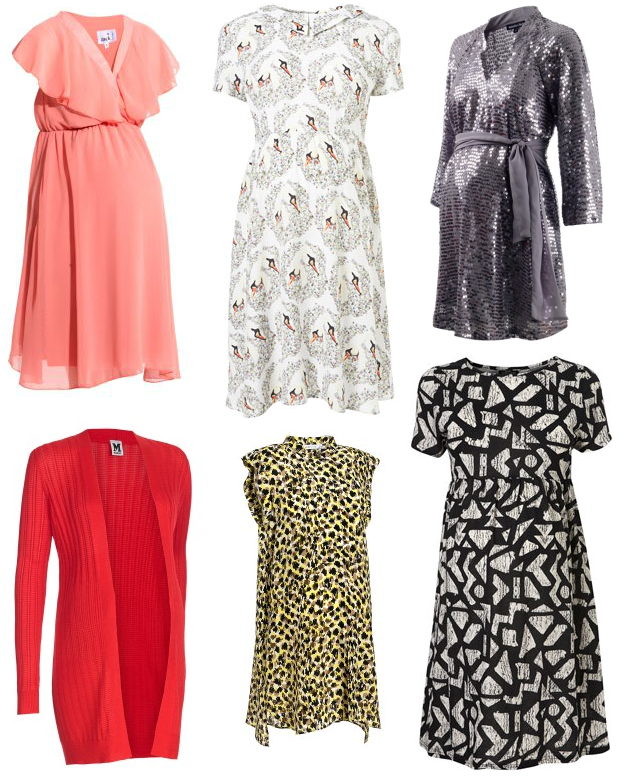 Coral ruffle dress, New Look, £39.99
Swan collar dress, Topshop, £38
Sequin tunic, Isabella Oliver, £104.50
Aztec tshirt dress, Topshop, £28
M by Missoni maternity cardigan, Blossom mother and child, £278
See by Chloe yellow camoflage tunic, Blossom mother and child, £377
Actually finding pretty maternity clothes on the highstreet is really hard. If you like jersey or plain t shirts you're in luck! But if you want anything like my normal wardrobe (tea dresses, lace tees, leather leggings perhaps) then you won't find a great deal. And if you do, tell me where, because I'm getting desperate!
Topshop
seems to be the best I've seen so far, in terms of sticking to the same styles/patterns as their mainline range. But frankly, I can't afford a whole new wardrobe from Topshop that I will only be able to wear for 5 more months! Time to look at my existing wardrobe and get creative, I think...
Love Tor xx
PS - Don't forget to enter my competition to win one of TEN St Tropez tanning sprays or lotions worth £26 each!