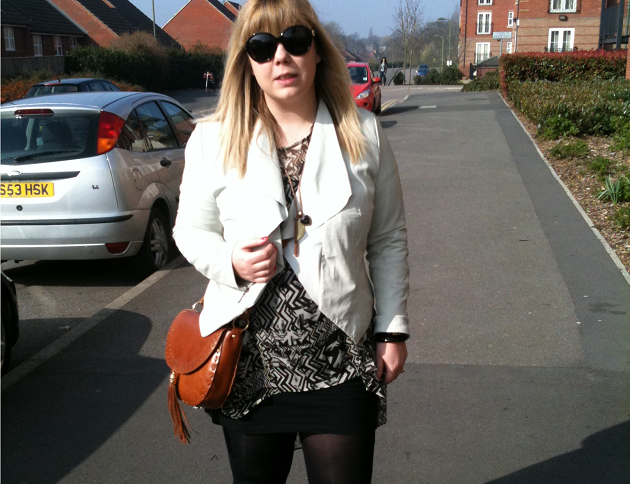 Hi guys,
I promise this isn't going to turn into a pregnancy blog (I'm still all fashion!) but as being pregnant is now something I have to consider when making fashion choices, I will be including occasional pregnancy fashion posts: and if you know anywhere that has a good selection of stylish maternity wear that me know, because I am really struggling to find anything I like!
Like lots of people, I didn't want to tell everyone I was pregnant until I had passed the 12 week point. Of course my husband knew and my mum (because I had to bore someone with every.tiny.detail or I would have gone insane!) but to everyone else I had to hide my tiny baby bump in the hope of looking the same as ever (optimitic!) or, more realistically, just a bit chubby. It's actually not as easy as you think: especially if (like me) your stomach seems to explode from the minute you take that first pregnancy test!
In the same situation? Hoping to be in the same situation? Just interested in how fat people like me hide their tummies? Well here are my tried-and-tested tips for hiding your baby bump in that all-important first trimester:
1. Oversized tops are your friends.
My selection of oversized chiffon blouses was a lifesaver! I teamed them with a tight fitting black skirt and leggings or skinny jeans to create balance and highlight the part of me that wasn't growing! Then people tended not to notice what was going on under the layers of chiffon around my tummy!
2. Empire line?
If you're small busted, all of my pregnancy books recommend an empire line to hide your baby bump. If your busty like me though, I would say this was a no-go. I ended up looking like a blow up doll: and still a little bit pregnant!
3. Wear a boyfriend blazer.
Over everything! I know I always did this anyway (I have more boyfriend blazers than anyone I know!) but a blazer, and when it was a little colder a long scarf, meant that most of my upper body was well-covered, and there was no way anyone could tell what was happening underneath. Waterfall jackets and tops also have the same affect.
4. T shirt dresses.
H&M has a great selection of T shirt dresses with a slight A line. I picked up half a dozen of these, and have been wearing them constantly for the past 3 months. Not exactly fashion forward I'll admit, but they come in a great range of colours (including an amazing fluro pink) and teamed with oversized jewellery and amazing shoes they'll definitely get your through that first trimester looking stylish and comfortable. Which leads me to my final tip.....
5. Accessorize, accessorize, accessorize!
Don't waste money on new clothes for this short period of time. Instead wear jersey and cotton pieces you already have in your wardrobe and accessorize them. If something is tight on your tummy, hide it with a scarf. If your T shirt dress fits fine, but looks plain, add an oversized necklace and a chunky bangle. And remember, your feet shouldn't grow (yet!!) so make the most of all your favourite, amazing shoes!
And now? Well now I'm pregnant! Everyone knows: even the postman and the lady on the till in Waitrose last night. Now I've started telling people I can't stop. So I'll be flaunting my tiny baby bump, and even doing a little maternity clothes shopping: yes, every new life experience is just another excuse to hit the shops!
Love Tor xx