Hi guys,
I have a confession to make: I am a terrible daughter. This year I managed to forget my dad's birthday! It completely slipped my mind: I even called home on the day without remembering at all until my mum reminded me! So to make up for it, I am planning to make this Father's Day a good one!
Want to be a good daughter and not a terrible one like me? Then make a note that Father's Day is
this Sunday
(17th June 2012). If you do nothing else, pop a card in the post and pick up the phone this weekend!
Want to do more than send a card? And aren't crafty enough to make a homemade present (because everyone knows if you can craft, handmade gifts are always well-received)? Well then if you have a fashionable dad (and I really do!) then this fashionable Father's day gift guide may help. And I promise there isn't a cheesy mug or pair of 'I love Dad' socks in sight: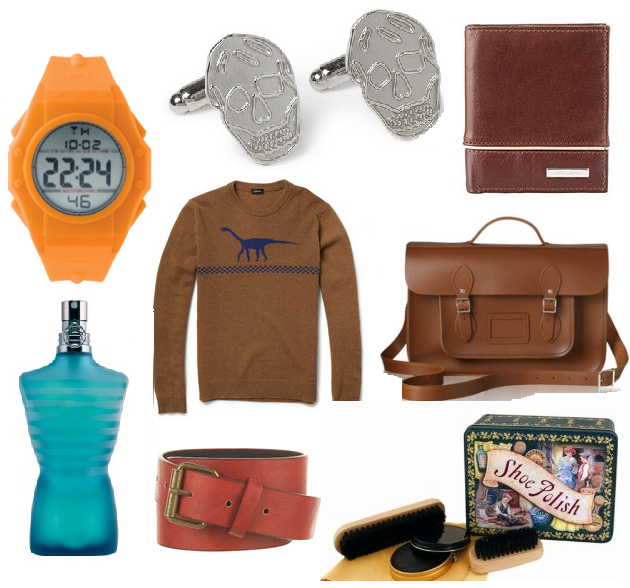 Digiplex watch, Storm, was £69.99 now £44.99
Tan satchel, Cambridge Satchel Company, £93
Alexander McQueen skull cufflinks, Mr Porter, £93
Jil Sander dino jumper, £490 (Yes, I know this one is expensive but this is a wishlist!)
Jean Paul Gaultier Le Male, Debenhams, £28.50
J by Jasper Conran wallet, Debenhams, £18
Vintage-style shoe cleaning kit, Amazon, £12.25
Red slim chinos belt, Topman, £12
In the end I went with aftershave (and a few other bits) for my dad, but I wish I'd seen those McQueen cufflinks before I hit the shops: they are seriously cool!
Do you celebrate Father's Day? If so what will you be doing for your dad this weekend?
Love Tor xx