Hi guys,
I've already posted about the massive fun of the
Sarenza high heel race
, but this video was just too good not to share, as it shows the fun and atmosphere of the event perfectly: this is what we put ourselves through last weekend. We were racing for shoes, and for a free trip to Paris. It was a whole lot of fun!!
Sadly the video doesn't show the fabfrocks team racing in all their glory, but I can assure you we were fabulous, and more importantly, we didn't come last. I started the weekend not giving a damn whether we won or not, but when you're actually stood on the track waiting for the gun to go with people cheering you on at every angle, winning (or at least not coming last) becomes very important!
I know i've already shown you my pics of the event, but the official photographer was much better than I am (obviously!) So here are a couple of the official pictures I just have to share: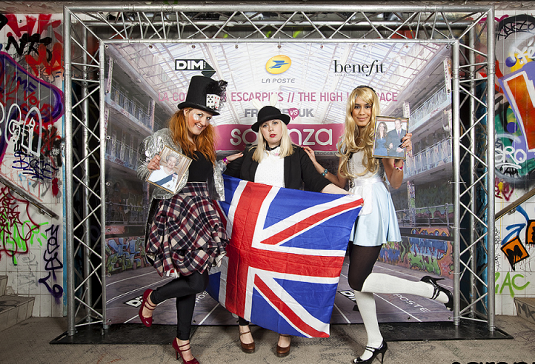 Patriotic and topical: look at Reena proudly waving the Kate and Wills photo, whilst Amy went for a more traditional Queen shot, and I opted to bury myself behind Union Jack. The more pictures I see the more I remember what a fun night it was. I will definitely be entering a team next year and am already looking forward to it: will I see you there?!
Love, Tor xx