Hi guys,
Hope you're all having a great week! I've been in bed with a chest infection since the weekend, but last night was our works Christmas party and the lovely
Aussie guys
came and did our hair so we looked all fancy before we headed out. So my week has been a week of ups and downs (With my fancy hair being a definite up!)
Last week the folks at
Next
sent me these lovely 12 days of Christmas icons. Well, I thought they were so cute (and i'm obsessed with anything festive right now!) so I just had to use them in a post! Team that with the fact that although i've been thinking constantly about Christmas presents, I haven't thought about outfits at all yet: something that needed seriously vectifying. So here is the soloution. The first three of my twelve outfits of Christmas: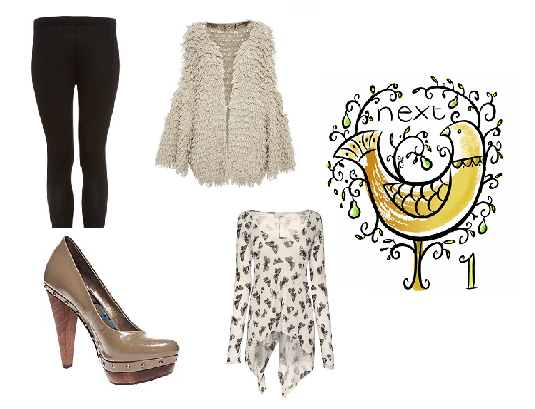 DAY ONE - And a partridge in a pear tree
Fringe Cardigan - £50
, Black leggings
, Dip hem butterfly top
, High heeled clogs, £35
This is a great cozy outfit that would be comfy and slouchy, but is coordinated enough that when you add the heels you'd look dressy and put together at the same time. I'd wear this on Christmas eve when we have family dropping in and out for my mum's glorious festive buffet and I need stretchy mince pie trousers!!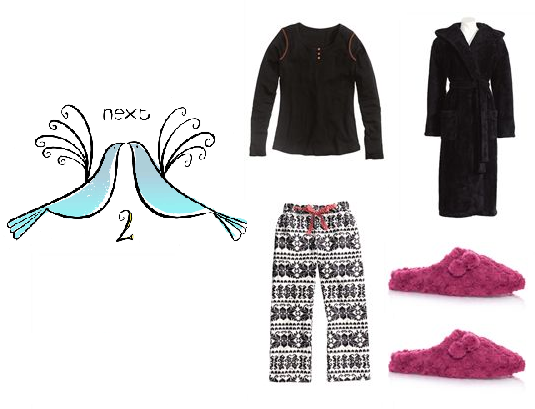 DAY TWO - Two turtle doves
Pajama bottoms - £15,
Pajama top - £8
, Slippers,
Black robe - £22
.
In the Brierley household, Christmas day is a pajama day, so we all go to bed in our finest house clothes on Christmas eve: after all, even in your PJ's you want to look good for the camera! I avoided my personal preference of over-the-top reindeer PJs, and picked out these cuddly but grown up black separates with a pink accent.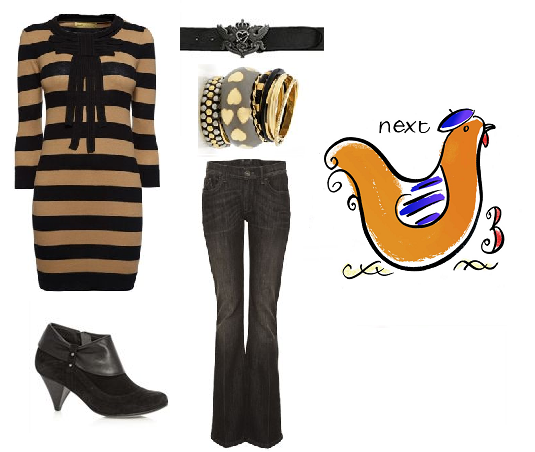 DAY THREE - Three French hens
Shoe boots - £55
, Striped dress,
Boot flare jeans - £22
,
Vintage buckle belt - £18
, Bangle set - £18
How could you do the French hens without a little Parisian chic?? This outfit is for the first day of hitting the sales: comfortable and relaxed for a little harmless shopping (and jostling) but smart enough to meet the girls for lunch afterwards. I would wear leggings with this but I added the jeans for warmth, and to make the look a little more casual.
I love putting together outfits: it's like dressing dolls but without the awkward unbending arms! There'll be more festive outfits coming in the run up to Christmas!
Love, Tor xx