Hi guys,
Breast Cancer Awareness month
is an event that is close to my heart (or should that be close to my chest?). And the beauty of it is, it's so easy to support! Sometimes talking about cancer, or thinking about doing something for charity can make us feel awkward and, well, just a bit British about it. But the beauty of supporting Breast Cancer Awareness month is that all you have to do is shop. Hit the shops and treat yourself, buy something you would normally buy anyway, you can even buy your vegetables in Asda, and you will be supporting Breast Cancer Awareness, with a portion of the sales for each item going to the charity.
Here are some of my favourite items that are currently on sale for Breast Cancer awareness month this year: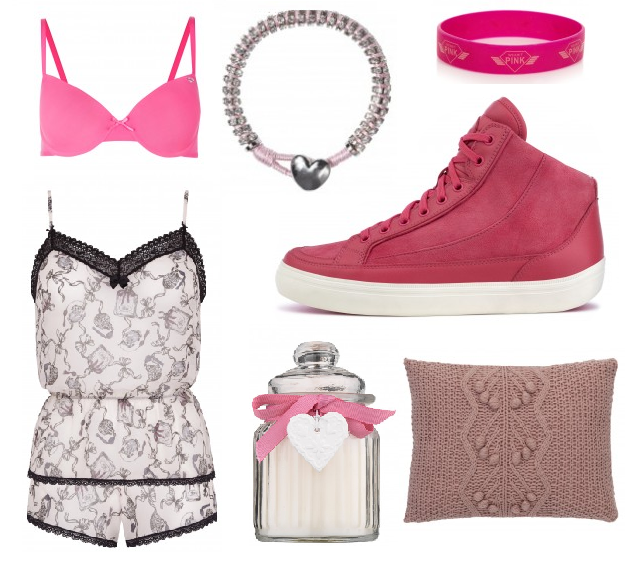 Pink T shirt bra, Primark, £2.50
Pink diamante heart bracelet, Marks and Spencer, POA
Pink rubber support bracelet, Primark, £1
Pink Fiflop super sneakers, Flitflop, £90
Perfume print cami and shorts set, Marks and Spencer, £16
Primrose and peony jar candle, Sainsburys, £5
Lavender knitted cushion, Sainsburys, £12
I'm not going to lie, I'm not the biggest fan of the colour pink (something of a hindrance to this campaign, I admit) but some of these pieces are really pretty. And if you don't like to wear pink, there are plenty of pink home wares you could choose from too: that's what I'll be doing. I'm actually going to buy a couple of those knitted cushions to put on the sofa in my office. And whilst I'm thinking about it, I'm going to make a donation to my favourite breast cancer charities at the same time!
What will you be doing for Breast Cancer Awareness Month? And have you seen any specific BCAM-branded products that have taken your fancy?
Love Tor x