Hi guys,
The seasons, they're a-changing. And that can only mean one thing: autumn clothes and shoes, my favourite season of all, are starting to land in store! My excitement about this was cemented when the
Sarenza
A/W lookbook arrived in my inbox, and I got to see all of the amazing goodies they have instore for us over the coming months: including a host of brand new designers! Here are some of my highlights: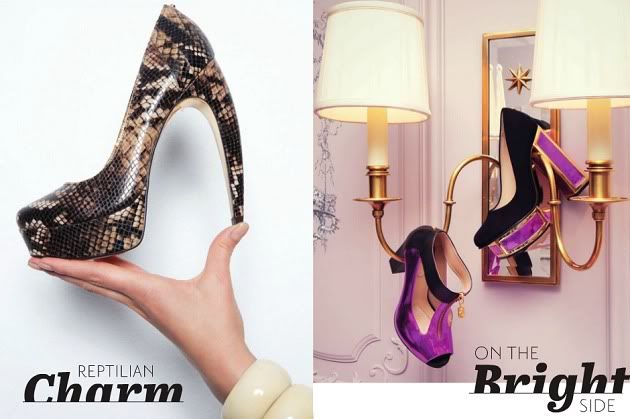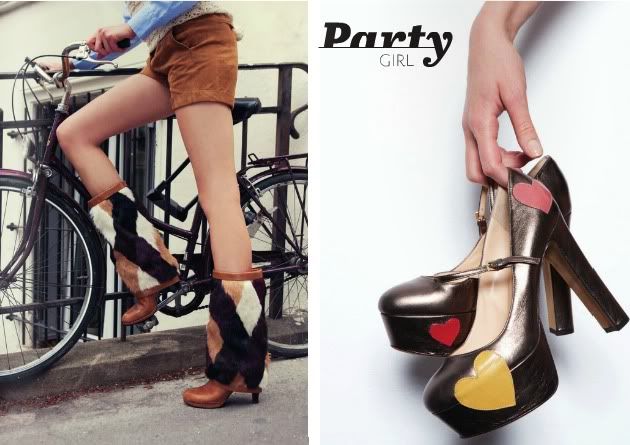 Snakeskin heels, Ted Baker, £160
Bright shoes, Kate Maconie, £215 and £230
Fur boots, Chie Mihara, £489
Heart heels, Moschino Cheap and Chic, £379
And here's all the hot news:
-Betsey Johnson is coming to Sarenza! I think I have mentioned before that Betsey is one of my favourite designers: the first designer item I ever bought for myself was a cowboy-style leather Betsey Johnson hobo bag, and my parents tend to buy me a new addition to my collection every christmas. I can't resist her, and can't wait to get my hands on those shoes!
- Adjustable shoes from Tanya Heath! Tanya Heath has designed the first multi-height shoe with an adjustable heel. These clever (and gorgeous) little beauties can go from a glamorous stiletto to a smart and practical low heel in one click. The best idea in shoes I've seen since the folding pump!
-In more gasp and squee about designers news, Vivienne Westwood is also coming to Sarenza for the next season. Another one to look forward to.
- Finally, what trends are Sarenza predicting will be hot next season? Well, look out for patchwork suede, structured heels, snakeskin, and ankle straps. Last year's Chelsea boots and loafers aren't go anywhere either, so if you bought a pair, hang on to them!
Sigh! I just can't wait for all of these goodies to land on the site, so that I can start planning my winter wardrobe. Have you starting thinking about your Autumn/Winter looks yet? Or is it a little too soon?
Love Tor x