Hi guys,
It's a question I often ask myself: is it better to match your accessories or clash them?! Personally I'm a big fan of matching (I rarely leave the house if the colour of my shoes doesn't match the colour of my bag) but I also appreciate that a little clashing (especially in the summer) is probably much much cooler!
Matching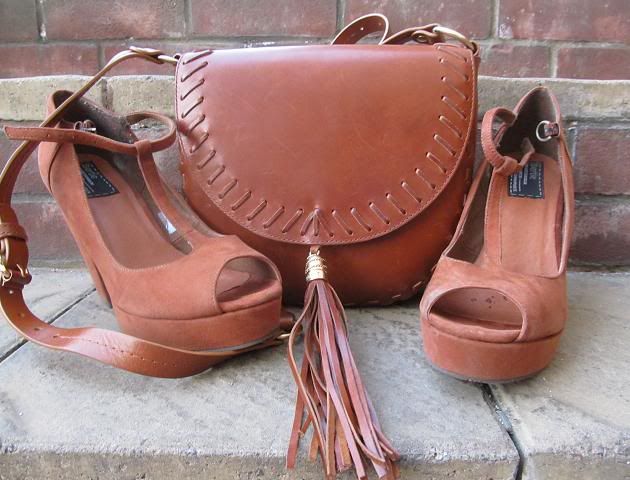 I love my new tan saddle bag (thank you very much, TKMaxx!) so I knew I had to get the perfect pair of summer shoes to match it. Enter these amazing peep toe T-bar sandals from Bertie (
c/o Sarenza
) They have a sturdy platform at the front which balances out the height of the heel, meaning you can wear them all day with no discomfort: tried and tested! I was delighted by how exact the colour-match was too. It's very rare when the colour on the screen is the same as what arrives on your doorstep!
Clashing
This is my third pair of
Valensi pumps
from Sarenza (I also have a gold pair and a black pair) and I plan on adding a couple of other, brighter and more summery shades, to my collection. They are the most comfortable pumps I have ever owned: they have a supportive back and sit slightly higher up the foot than normal pumps leaving you feeling snug and supported. It would be a little twee to then add a powder pink handbag though, so this is where I turn to the clash-side! So instead I went for a turquoise studded clutch. Just add jeans and a white tee and I'm ready to go!
Do you tend to match your accessories? Or do you mix and match colours? I'd love to hear your shoe and handbag co-ordination thoughts!
Love Tor xx