Hi guys,
I'm trend obsessed. I don't really have my own deeply ingrained sense of personal style, I see myself as more of a chameleon. I just unashamedly love to follow trends, and make them my own. But I also know what works for my shape and fits into my current wardrobe, and what doesn't. And sadly, currently on top of that 'what doesn't' list is this season's hot obsession with bright and candy coloured jeans and trousers.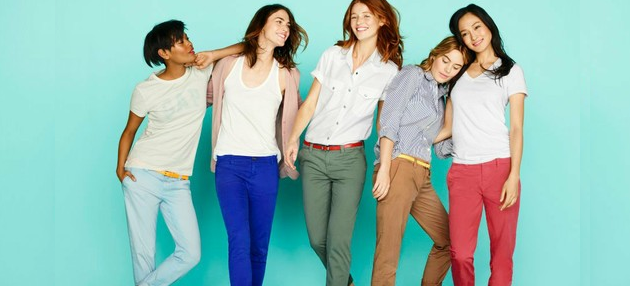 If only real life was as happy as a GAP ad!
I bought a pair of red skinny jeans from
Topshop
, and wore them just twice. I really wanted the trend to work for me, but in reality I just ended up wearing outfits that made my (already bigger than the rest of me) look disproportionately large and, well, bulbously bright red!
If I could rock the trend though, here's how I would be wearing it: in bold block colours teamed with equally attention grabbing masculine blouses and pared down accessories. Feminine, understated, and fashionable. Live the dream:
(All of the model pics are from Primark) Pink skinny jeans with belt, Select, £22. Yellow jeans, Topshop, £38. Green jeans, Oasis, £40.
Of the bloggers I regularly read and love, Jen (A Little Bird Told Me) and Reena (Fashion Daydreams) are the two that rock the coloured jean look in a way I can only dream of. Leaving me in my selection of black jeans (my favourite!) hoping that the darker denim look will be back on trend in no time!
What trends do you love but can't wear? If you really loved a look would you wear it anyway, even if it didn't suit your figure?

Love Tor xx