Hi guys,
Christmas isn't even upon us yet, but it's already time to start talking about the post-Christmas sales! The
Sarenza
sale started today, and I have to say, it's a cracker! I'm a self-confessed shoe addict, so it doesn't take much to make me think about buying shoes: and a discount of up to 50% ought to do it!!
I love the January Sales (any idea why we still call them that when they start in the middle of December?) From around October I stop buying myself anything and add everything I see that I love to a mental checklist, then try to find as much of it as I can in the sales: I just can't resist a discount! With that in mind, here are my picks of some of the best pieces from the Sarenza sale right now: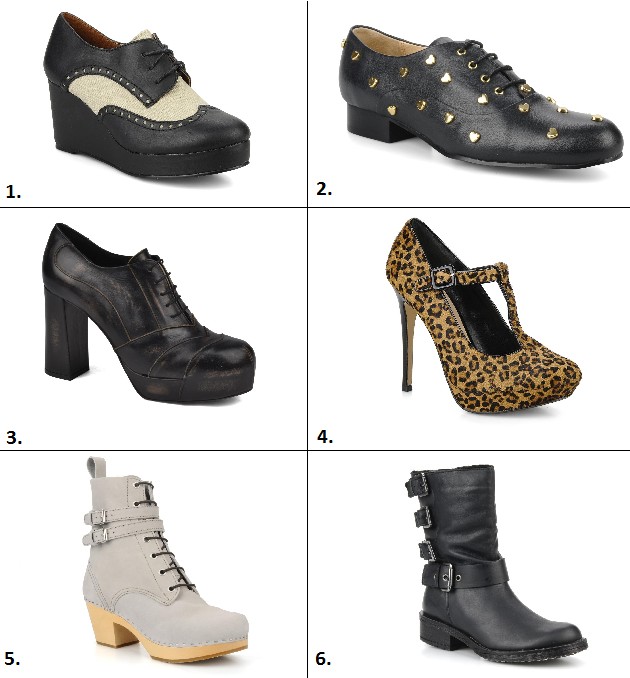 1. Jeffrey Campbell brogues, £46.50 (50% off) 2. Moschino heart brogues, £160.30 (30% off) 3. Jeffrey Campbell heels, £58 (50% off)4. Dune leopard print heels, £66.50 (30% off)5. Swedish Hasbeens boots, £188.30 (30% off)6. French Connection boots, £99 (40% off)
If none of these take your fancy, there are literally hundreds of other shoes over on the site for you to check out, and a massive selection of amazing sale
handbags
too. One of my favourite things about being a Sarenza brand ambassador is being given the excuse to spend hours every month trawling through their website and indulging in a little fantasy shoe shopping. And with a little help from the sales and some Christmas money, I'm about to make those shoe fantasies a reality!
I actually think I am going to pick up those Moschino Cheap and Chic heart brogues. I admired them when they were full price but couldn't justify the expense, so the 30% off is the perfect reason to pick them up now!
Love Tor xxx