Hi guys,
I was going to put together a comprehensive Christmas gift guide, full of fabulous ideas for all those awkward people in your life. But picking presents for awkward people is, well, awkward, even for someone who shops as often as I do! So I decided instead to create the perfect Christmas gift guide for, erm, me!
I'm not sure how useful this will be if you still have Christmas shopping to do, but why not take a break and look at all of the pretty things instead? Oh, and if you need a present for a chubby fashion blogger with an animal obsession, here are my ideas: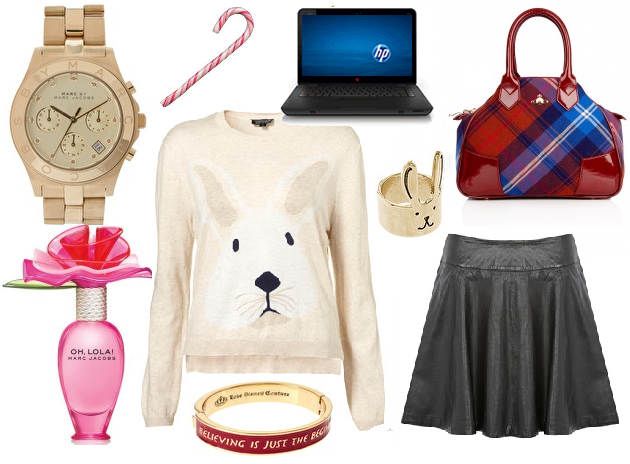 Marc by Marc Jacobs watch, £250
Bunny jumper, Topshop, £38
Candy canes, M&S, 99p
Oh Lola 30ml, Debenhams, £33
Bunny ears ring, ASOS, £8
Vivienne Westwood bag, £290
HP Envy laptop, £1199
Disney couture "Believing is just the beginning" bracelet,£39
Leather skater skirt, Oasis, £95


I love Christmas, it's my favourite time of year. And actually that has nothing to do with the gifts, although they are an added bonus! I like spending time with my family, overindulging, and having the excuse to unwind and relax.
What will you be asking the chubby man in the red for this year? And I'm also interested to know if the recession has curbed your spending, or made you get a little more creative with presents?
Love Tor xx
PS - The winner of the Tesco Christmas dress competition is SamanthaB - Congratulations!!! Please
email me
to claim your prize!