Ok, so here are the things I know about
Aussie
: It smells really good. It makes my hair incredibly soft and shiny. It contains Australian ingredients. Did I mention it smells really good?
This means that when putting together an Aussie outfit it has to be sweet (but not sugary sweet!) lightweight (i've never seen a picture of anyone in Australia wearing a far coat) and full of lots of different textures, like all the different hair textures the brand looks after.
There are lots of different Aussie girls (from goths to glamour models) but i've decided to style the outfit to what would suit me because a) i'm an Aussie girl and I use their products and b) i'm constantly at my own disposal! So here it is: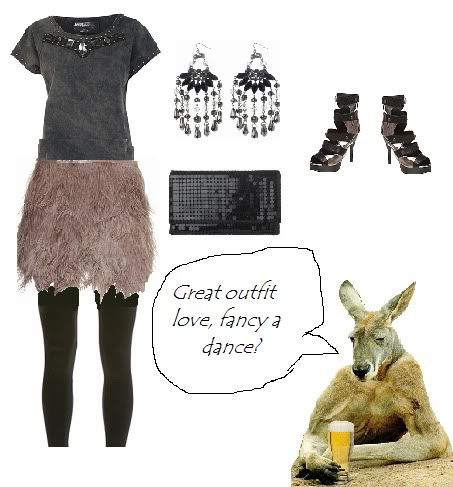 The outfit is a party outfit because I reckon the Aussie girl is a party girl: so first off she gets killer heels. Office £50.
Then i've used the feather skirt
I tried on last week
because the colour reminds me of the colour of the Aussie conditioner I use (could I be more literal!?) Topshop £75
I've teamed it with wet look leggings (wet like my hair after a shampoo, you could say!) Topshop £20.
Then i've added a simple rock-chick top from River Island £34.99, and a sparkly clutch from New Look.
For jewellery I went simple with earrings (to draw attention to the hair of course!) from New Look as well.
Oh, and dont forget the obligatory kangaroo and pint of Fosters: I couldn't do an Aussie outfit without it!
This was fun! Think you can do better? Then
enter my competition here
to try this yourself!
Love, Tor xx