Hi guys,
Another day, another post about Christmas! We're now exactly two weeks away from Christmas day, so if you haven't started your Christmas shopping yet then you really should get a wriggle on! I've been on the
Marks and Spencer website
for the past hour or so, checking out all the great stocking filler presents they offer: and all for less than £20. Here are my picks of the best of them: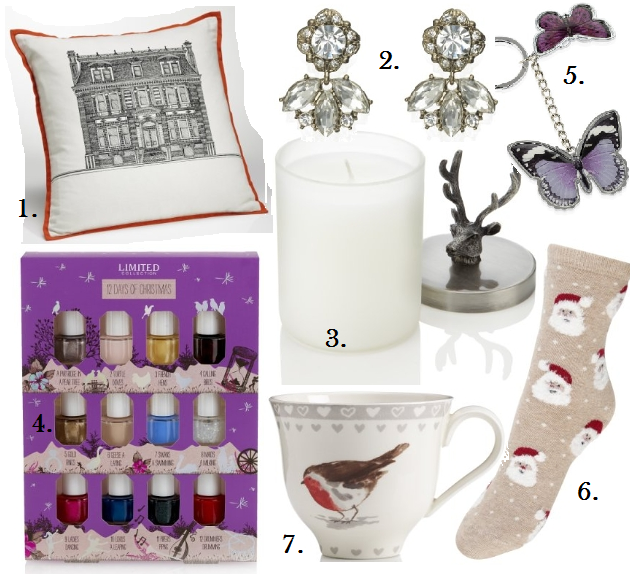 1.Conran house print cushion
, £19.50
2. Limited edition diamante earrings
, £15
3
. Chatsworth stag candle,
£19.50
4
. Limited collection 12 days of Christmas mini nail polishes
, £15
5. Butterfly keyring, £7.50
6. Three pack of santa socks
, £5
7. Winter robin mugs,
£8
The reason I've been scouring the M&S website? I'm taking part in the
Marks and Spencer
Christmas Blogger's secret Santa challenge, and I chose the House print Conran cushion above as my present for my secret Santa.
Want to know which blogger I brought my Secret Santa present for? Well sadly I'm not allowed to tell you. But here are a few clues that might help you to reveal her identity:
1. She loves sewing and craft.
2. She has long red hair
3. She's an incredibly talented illustrator
4. I chose this particular gift for her because she's recently moved in with her boyfriend and I think it would look great in her living room!
Does anyone know who it is? If you think you can guess then pop your ideas in the comments box. And happy Christmas shopping!
Love Tor x