Hi guys,
Christmas is coming, the geese are fattening up, and I am starting to think about what I'll be finding in my Christmas stocking.
The new series of
New Girl
is starting soon, so the complete second series on DVD is going to be one of the gifts on my wishlist. And because it's been 12 months since I've been to the cinema there are a dozen other DVDs I'd be glad to unwrap on the big day too. Mostly though, I'll be asking for things for our new house and fashion-y things for myself. Now to decide exactly what bits and bobs I'll be asking Santa Claus to pop under my tree. To give him a helping hand I've created my perfect Christmas wishlist from the
Zalando website
: I've covered a range of price points from stocking filler to 'wow that's expensive'.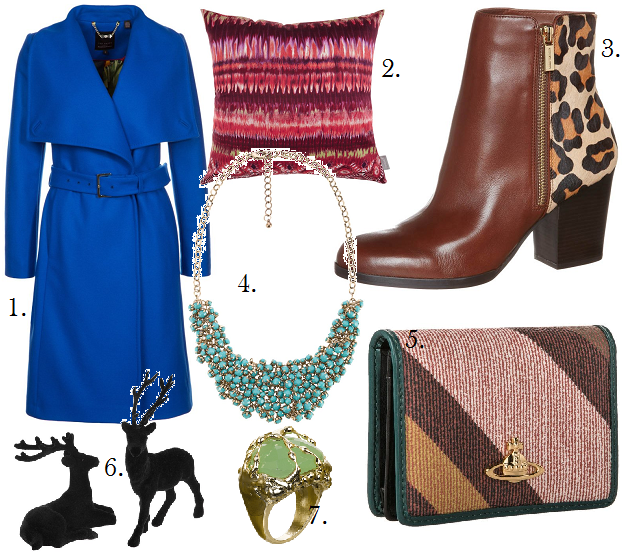 1.
Ted Baker classic blue wool coat
, £245
2.
Pad purple cushion cover
, £21
3.
Michael Kors brown and leopard print boots
, £190
4.
StyleR by Post turquoise necklace
, £38
5.
Vivienne Westwood purse
, £80
6.
Set of two stag decorations
, £14
7.
Rosantica ring,
£130
What do you think of my picks? And what will you be asking Santa for? I'll be making gift guides and wishlists from lots of other stores over the next couple of weeks: here's hoping Santa is watching!
Love Tor x