Hi guys,
Like most people, I love a little bit of luxury, and I can't resist treating myself to designer things every now and again. But I'm also a high street addict and I love getting a bargain. I've tried to give up shopping in Primark so many times, but I always get lured back "just to have a look" and I always end up picking up something: their on trend styles and low-low prices are just too tempting!
As someone, therefore, who mixes designer and high street pieces in almost every outfit I wear (though my wardrobe contains significantly more high street items!) I thought it would be a good post to share my opinions on what you should buy designer, and what items you should save your money on and get from the high street. Unless you're a millionaire of course, in which case you can hang the expense and get everything designer! But this is for the average gal like me, with a relatively small amount to spend on fashion each month:
Accessories
When it comes to most accessories, I subscribe to the philosophy that designer is best. I think people notice if you're wearing a statement watch from a good brand or if your sunglasses are designer or high street. And because trends for these items change very little, they're worth investing money in. It's also worth noting they're usually much cheaper than designer dresses or handbags!
On the other hand, I like to update my wardrobe with my accessories (that's what comes of being addicted to classic black outfits) which means there are also pieces I like to get from the high street: I would love to be able to afford necklaces from Mawi, for example, but for oversized statement necklaces I don't think you can get better than Topshop - especially because fashion jewellery trends change so often.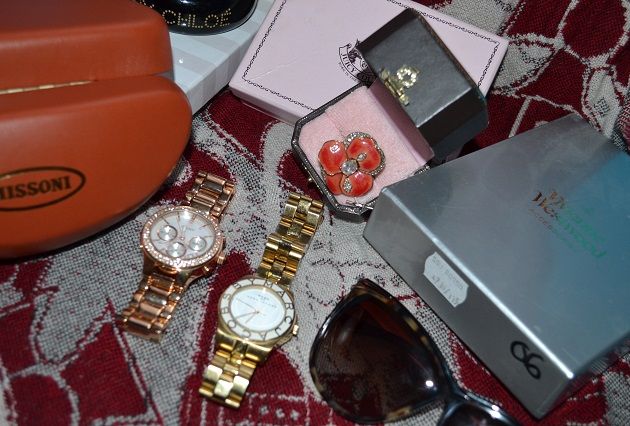 I just can't seem to stop myself buying designer accessories - it's an obsession!
Clothes
As a general rule I shop highstreet when I'm buying clothes. We are so lucky in the UK, because our high street is the best in the world both in terms of style, and in terms of quality and fashion forward-ness. Of course, I would love to spend £1000 on that Matthew Williamson dress. But when Monsoon do a very passable equivalent for a tenth of the price (and you'll only wear the frock twice anyway!) it really does make sense to save your money.
I do caveat that though with this notable exception:
Coats
My black trench coat is Stella McCartney (I got it from a sample sale) and I really do think you can tell the difference in it's quality from my old Topshop black trench coat. Designer coats tend to be heavier, a little thicker, more well crafted. If you like to have lots of coats in lots of styles and colours (like me!) then the high street is going to be your best friend. If you choose just one winter coat that you like, and wear it winter after winter, then look for a designer coat you can really fall in love with.
Handbags and shoes
A lot of people will say that when it comes to handbags and shoes, designer is best. But what I think they really mean is that quality is best. Whether I'm buying from the highstreet or spending designer money, I always like my shoes and bags to be leather. It lasts longer, and looks better: it doesn't have that plastic sheen that pleather tends to have.
I think a splurge is definitely worthwhile on one classic designer handbag: especially if there's one you've had your eyes on for a while. Saving your pennies to buy your dream bag is definitely behaviour I approve of!
PS - Don't believe people when they say that designer heels are worth the money because they're more comfortable: As the owner of several pairs (Dior, D&G, Moschino) I can tell you that it's a myth!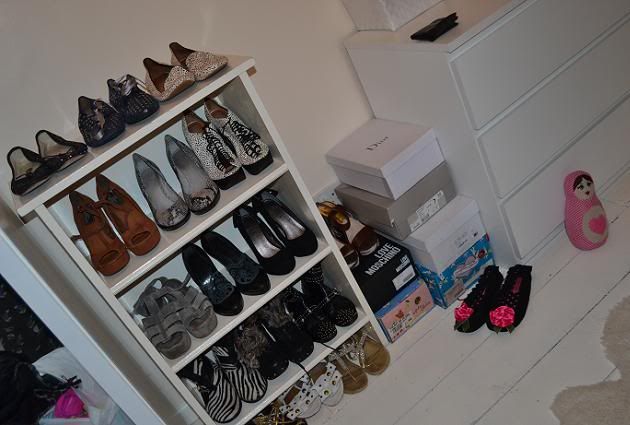 A mix of high street and designer, but every pair is leather!
So in summary I guess what I'm saying is spend on the classics: your watch, sunglasses, everyday handbag and coat. But save on trendy tops, perpex necklaces and anything in neon: you won't wear it often enough for it to be worth spending too much money!
Of course, don't forget that buying designer doesn't have to cost the earth! Here are some of my favourite websites that I scour through at least weekly to find designer treasure at discount prices:
www.tkmaxx.com
(They have regular designer flashsales, but you now have to sign up to shop)
www.theoutnet.com
www.brandalley.co.uk
(You have to be a member to shop their designer sales)
What do you think of my suggestions? What items do you like to buy designer, and what do you think you can get just as easily from the high street?
Love Tor x