Hi guys,
Shopping for swimwear when you're fuller busted is a mini nightmare. I would go as far as to say it is my least favourite thing about going on holiday: and I love shopping! It's also more expensive than shopping for a 'normal' bikini: there's no popping to Primark or George at Asda and picking up a couple of swimsuits for less than a tenner when your boobs need proper support.
Luckily,
Bravissimo
is my swimwear saviour. Not only do they stock their own brand of cupped and sized bikinis, they also stock all of the other huge fuller busted brands such as Triumph, Freya, and Panache. If you're rocking boobies bigger than a D cup then I think swimwear that is cupped for proper support is essential, and worth the extra money you have to pay. Here are some of my picks from Bravissimo's current range: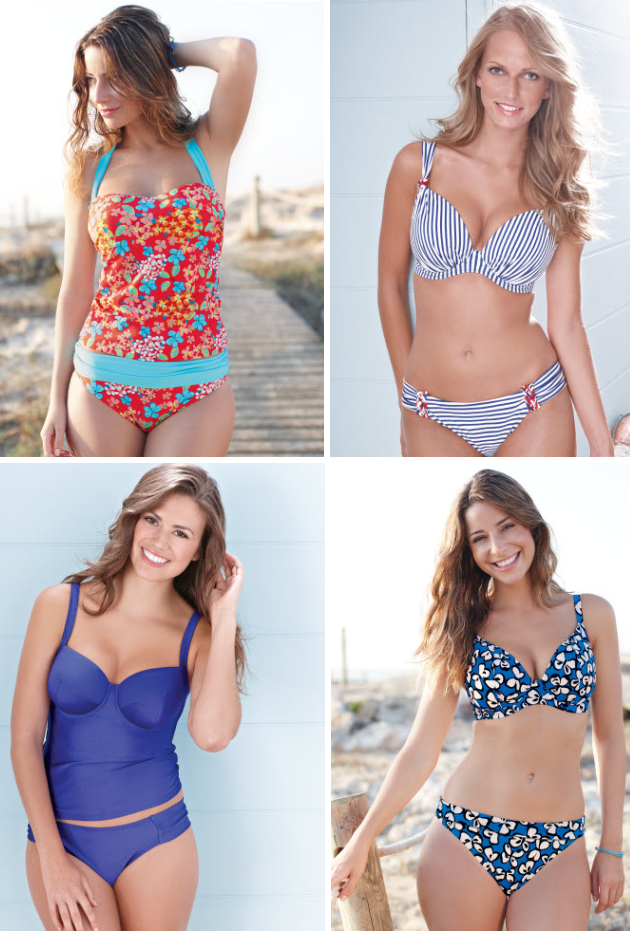 Haiti tankini top £45, bottoms £23.
Stella bikini top by Panache, £31. Bottoms, £15.50
Belize tankini top £36, bottoms £18.
Madame butterfly bikini top by Freya £34, bottoms £23.
The tankini style is perfect if you have a slightly jiggly tummy - or new mummy stretch marks like me! I think you look slimmer the less flesh you show, so I'm a big fan of the tankini. I love the first Haiti tankini here: the blue band at the top of the bikini bottoms breaks the smooth line of the pattern of the tankini. This isn't great if you have hips, curves, or an hourglass figure. But it's perfect if you are slim with fuller boobs as it will create curves at your hips and draw attention away from the boobs.
The only problem with this tankini? It has halter straps! If you have very heavy boobs then you will find that when a halter bikini gets wet the weight of your boobs will cause friction and pain on the strap around the back of your neck - I'm talking from experience here!! Wide flat shoulder straps are much more comfortable, and that's what I would recommend you look for.
I've included the blue Belize tankini here because that's the tankini I'm wearing right now: mine is in coral though, which was the colour Bravissimo made this in last summer.
I only have one swimsuit in my armoury (these are so expensive!) but I think its better to have one that fits properly than ten cheaper ones that don't. I've you're going on holiday and want lots of different swimwear looks but don't have a lot of money then my advice would be to buy one well fitting bikini top in a classic colour or pattern (I would opt for plain black but the nautical stripes shown above would also work). Then head somewhere much cheaper - I'm thinking Primark - and pick up some contrasting mix and match bottoms and sarongs so you have lots of options and never get bored of your swimwear looks. This is what I did for my honeymoon and it worked really well!
Have you picked out your new season swimwear yet? And fuller busted girls, do you have any more bikini finding tips to share?
Love Tor xx