Hi guys,
I'm a bit of a sunglasses addict, but I'm also a clumsy oaf: I manage to lose, sit on, or otherwise break at least one pair of sunglasses every season. So getting designer shades for less than £20 is like the holy grail for me! It means I get to wear the sunglasses I love all summer long, but I'm not too heartbroken when their sell by date inevitably arrives.
Enter TK Maxx: home of the designer discount, and my favourite place to find sunglasses! They've just had a new drop of shades arrive on their
website
, and there is a great selection available. Whether you want aviators, vintage-style frames, coloured sunglasses, or wrap around shades, there's something for everyone: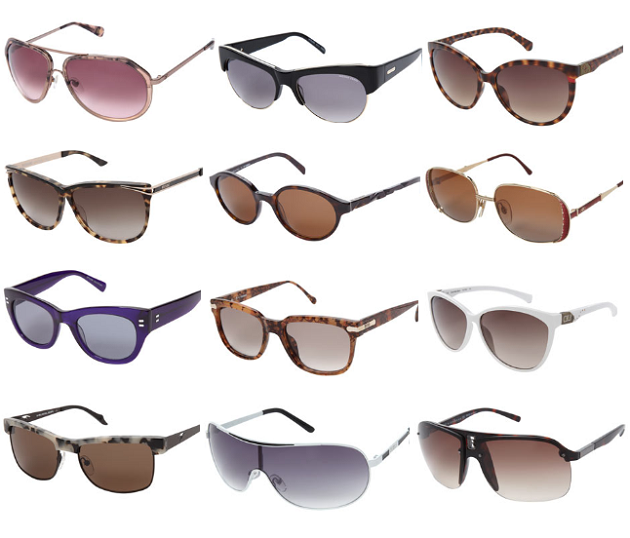 Row 1 left to right:
Diane Von Furstenberg aviators, £19.99. Nicole Fahri retro sunglasses, £19.99. Brown Calvin Klein sunglasses, £19.99.
Row 2 left to right:
Missoni oversized frames, £24.99. Jil Sander oval sunglasses, £29.99. Christian Dior red metal sunglasses, £69.99.
Row 3 left to right:
Nicole Fahri purple sunglasses, £19.99. Hugo boss tortoiseshell frames, £59.99. Calvin Klein white sunglasses, £19.99.
Row 4 left to right:
Mugler brown sunglasses, £19.99. Guess wraparound sunglasses, £24.99. John Richmond aviators, £16.99
I scoured through all of the
designer sunglasses
available twice before finally settling on ordering the oversized Missoni ones. I love the slight cats eye shape and the tortoiseshell colour. I really like brown or tortoiseshell frames, especially if you're fair skinned and fair haired. They blend in and are softer against your face, unlike black frames with can look too harsh and really dominate your face.
I'm also a huge fan of an oversized frame. Much like the theory that if you carry an oversized handbag against your hip it will make your body look smaller, I think that if you wear an oversized pair of sunglasses it will make your face look smaller: perfect if you have a big old moon face like me!
I want to end this by saying that this isn't a sponsored post: I just
really
love sunglasses, and as soon as I saw all these bargains in my
TK Maxx
newsletter today, I knew I had to share!
Do you buy new sunglasses every season? Or do you manage to not break the ones you have? (If so, tell me how you keep them in one piece! I'm useless!) And do you have your new sunglasses yet?
Love Tor x