Hi guys,
This week's Primark drop is perfect if you're looking to rock the varsity trend this summer. Plenty of jersey tees and preppy little dresses that will look great teamed with pumps and varsity bomber jackets.
When I was in my local Primark this morning the first quarter of the shop was entirely devoted to all things jersey. Tees professing that you're a 'Geek' or a 'Mathlete'. Or with Mickey Mouse or Batman on them. American high school girls would probably have a field day, but believe it or not this trend is ridiculously fashionable. Even if I am a little too old to rock it! Here are the new pieces that landed in store in Primark this week: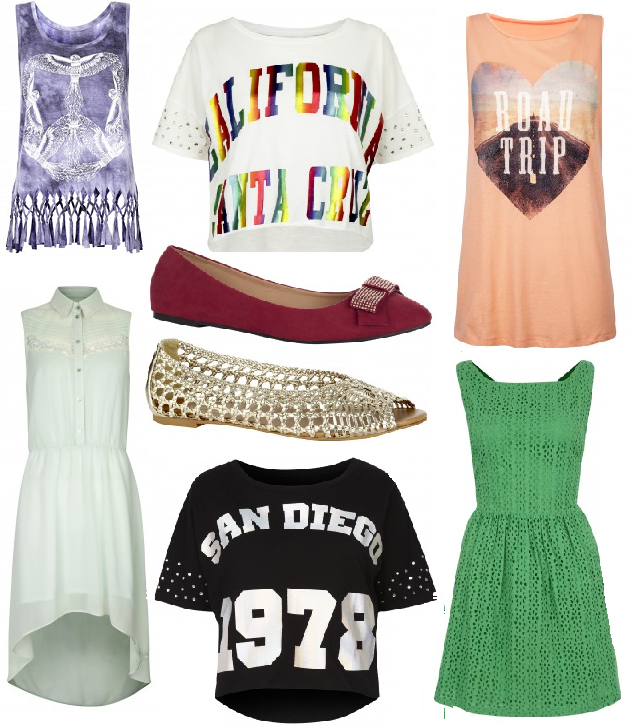 Tie dye tassle tank top, £6
Stud sleeved cropped varsity tee, £6
Road trip tank top, £4 (in store on Wednesday)
Mint pintuck shirt dress, £15
Studded bow pump, £5
Gold weave peeptoe flats, £10
Black stud sleeved varsity tee, £6
Green cutwork dress, £10
I really fancied trying one of the 'Geek' tees currently instore in Primark, but my husband, who usually has no interest in fashion, told me I was "far too old" for that particularly trend. It's sad, but it's probably true! I do like the green cutwork dress though, and it's a bargain for £10. It would look great with a contrasting fine knit cardigan too - more Grease's Sandy than Varsity girl, but the closest I'm likely to get to an American high school look!
Have you been into your local Primark lately? And what do you think of the varsity trend, would you try it out or not?
Love Tor x