Hi guys,
One of the main perks of working for myself is that I never really have to think about job interviews. My office is in the room next door to my bedroom and if I want to work in my PJs then there's no-one to tell me not to (very occasionally I do too!) However when I'm meeting new clients or attending client meetings I have to shed my house clothes and smarten up. So when someone emailed asking what they should wear to a job interview, I thought it was the perfect time to do a little fantasy 'work clothes' shopping and put together the perfect outfit for a dream job interview:
You can't go wrong with a crisp white shirt! Every woman should have one in their wardrobe armoury: you'll be amazed by how often you'll wear it. River Island have just
launched a new tailoring collection
, and I just couldn't resist these pin striped softly pleated cigarette trousers. If you need a really formal outfit then River Island also made a matching jacket to go with these, but I went for a block colour fitted black blazer instead. I always shy away from colour, particularly in a job interview situation, so I went for accessories in similarly dark tones, but with a patent sheen to add a little style.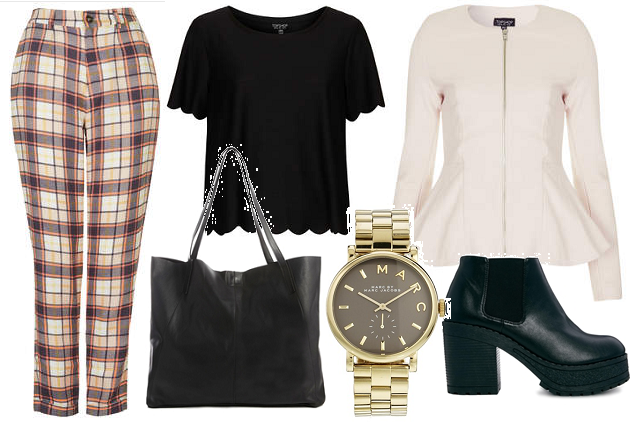 Work in a more creative environment or looking for something a little more casual? Inject a little colour and style with slightly more unusual patterns and textures. One of the most important things about dressing for a job interview is to be comfortable, so if you are wearing jeans then why not opt for a low heeled ankle boot rather than a heeled court shoe? You don't want to be worrying about tripping up on your way out of the interview! And as for accessories? Whether you're going hyper formal or super casual, a simple handbag (big enough to fit in any A4 documents) and a chunky watch is all you need: there's no need to distract with layers of oversized bling.I am totally in love with this second outfit and buying those trousers as I type!!!
Companies such as
City Calling
offer fantastic interview tips and advice for job seekers, helping you know what to say and do when you're in the interrogation suite (I mean interview room!) but as well as prepping your interview technique and making sure you know every detail of your CV, you should also ensure you're happy and comfortable with what you're wearing. Because looking good is half the battle....
Love Tor x