Hi guys,
Given the huge success of the Topshop Unique LFW show over the weekend, now seems like the perfect time to explore the Topshop AW14 collection. The campaign images have been out for a little while now and, as usual, Cara Delevingne looks as stunningly beautiful as ever. She typifies who the Topshop girl is for me: low key, effortlessly beautiful and certainly never about to try too hard when it comes to how she looks. Have you ever noticed that those young gorgeous girls (or 'Topshop girls'), much like off duty models, never feel the need to do too much to themselves? Their make up is minimal (just lots of smudgy black liner) their hair is undone, and that's exactly the feel this campaign gives, albeit in a more glamorous and grown up way. It's weird that making so little effort can be quite so aspirational.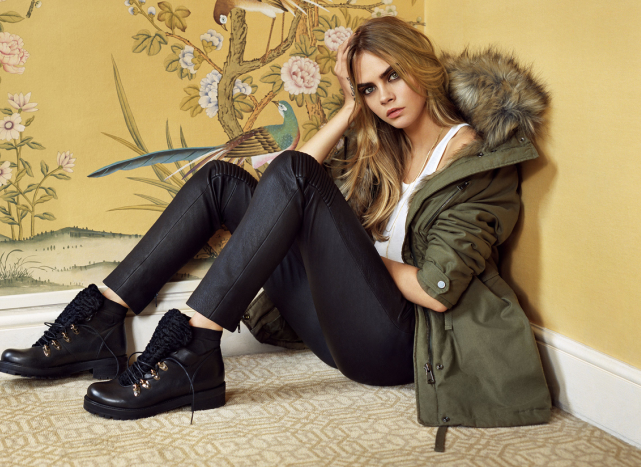 Taking inspiration from a mixture of 90s grunge and rock and roll trends, both of which show no signs of going out of fashion, like all of Topshop's collections every piece here is infinitely wearable. I love this aesthetic. Skinny jeans, leather trews and jackets, sensible flat shoes and even some lovely faux fur coats - all you need to throw in is a 60s retro-style mini dress and you have my dream style (and half my wardrobe) right there!
These campaign images have been released for over a month now, but it took the weather turning cold for me to look at them with fresh eyes and decide that what I (at first) thought was a very plain and mainstream campaign is, in fact, one of the most wearable and inspired high street campaigns of the season.....so far!
Everytime I go into Topshop I tell myself I'm getting a little too old to be shopping there. But I just can't help myself: I love the look, I love the effortless style, and I love aspiring to be a 'Topshop girl'. Even if I am just a chubby old mum with paint and playdough on her jeans...
Love Tor x