Hi guys,
For the second season in a row, I made the decision not to attend London Fashion Week. Reminders to request tickets and show invites trickled in, but I decided that this year it wasn't going to be for me. I justified this to myself in several different ways. Firstly, my life has changed so much since my last fashion week and so have my priorities. This Saturday I took Wilbur to the Dinosaur Park to see the animatronic T Rex with his little friend and then out for burgers. That's the place of my life I'm at right now, and I really do love it.
Secondly, the way fashion week works has changed so much since I first started attending all of those years ago. Live Streaming has been both hugely popular and wildly successful. I still managed to catch both the Topshop Unique and the Burberry shows, but from the comfort of my sofa without having to make a huge impact on my everyday life. I've also been trawling my favourite fashion sites checking out the backstage gossip, the details, the trends, the hair. Of course it's different from actually being there. The atmosphere, the electricity that ripples across the room, the details, the chance to see everything up close and with your naked eye. You really can't beat it, and I really don't think fashion week will ever become extinct with models walking in empty rooms whilst every watches from their desks at home or in their offices. I know (or at least I hope) that my time for returning to fashion week will come. But right now I'm happy with my place right here. Does that mean I don't feel a twinge of jealousy when I see all my blogging friends and colleagues strutting their stuff on the cobbles of Somerset House? Of course I do!!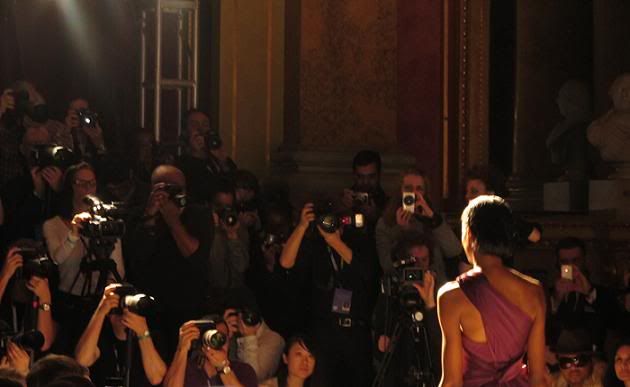 Photo taken from the Ashley Isham show back in Feb 2012
Blogger envy is a very real thing: I've experienced it myself, and also experienced it from the other side. Fashion week brings it out more than any other time of the year. Who has a ticket to the hottest show? Who's been invited to that party, worked with that new brand, been 'gifted' something fabulous to wear? It is a short but intense period that is a hotbed of competitiveness and the most ambitious of bloggers definitely use it as an opportunity to promote themselves as hard as they can. Good for them: I used to do exactly the same thing! I actually think a little healthy competition is a good thing. It's what makes you strive to be better and to work harder. Each blog is different and each blogger is different. That's what makes the bloggosphere such a unique and valuable place, so you can never compare your blog to others like for like, nor would it be healthy to. But you can see what others are achieving and wish to emulate their success in your own way and with your own distinct brand.
I am certainly envious of those bloggers at fashion week right now. I am jealous of their fabulous coverage and the unique perspective on the shows they have attended that is purely their own, informed by their experiences of being
right there
. I don't think there's any shame in admitting it. So as I sit here in my pajamas having just put my baby to bed on this, the final day of London Fashion Week, I am thinking of all the bloggers currently having the time of their lives. I wouldn't change the decision I made. But I will be back there again soon....
Love Tor x