Hi guys,
As soon as I returned from our holiday, I packed another bag so that I could get up the next morning and head off for my sisters hen weekend! I had organised it all, so I was very nervous about everything going well. We headed down to Brighton where we enjoyed a life drawing class, cocktail making, a delicious dinner and danced the night away. And it was awesome: phew!!
As well as organising the party I had also organised goodie bags for all of the 12 girls that attended. I decorated the bags and filled them with goodies for everyone:
The pastel coloured bags are from Hobbycraft. I embellished them myself using stick on gemstones: one painful gemstone at a time! On each name label I also added gems to look like minature Mickey Mouse ears, as a Disney theme was the order of the day. The bags were filled with a host of stuff: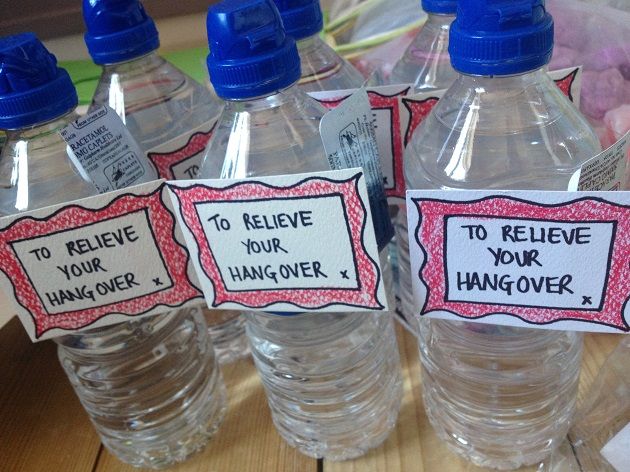 Practical things:
I taped paracetamol to water bottles so that people could soothe their sore heads the morning after the night before. I also added a tin of mints to each bag and some miniature toiletries in case any one had forgotten to pack their own. And because I am the queen of hyper-organisation I also added a copy of our itinerary to each bag so that everyone would also have the names and addresses of our next destination.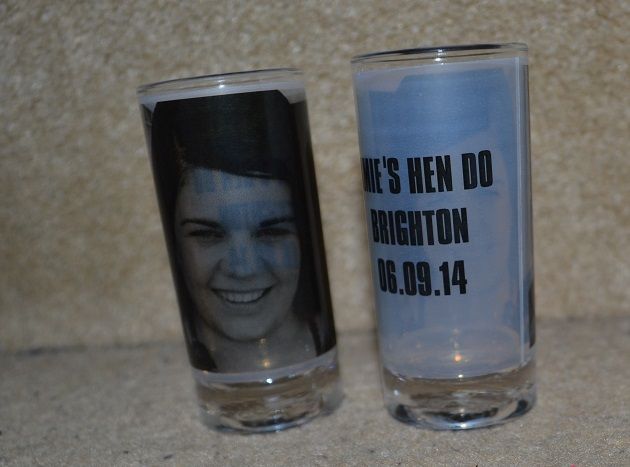 A gorgeous keepsake:
My absolute FAVOURITE thing that I put in the goodie bags was the
personalized shot glass from Mugshot Glasses
which had a picture of Amie's face on it, as well as the date of the weekend we went away. I loved these so much (and so did everyone else) so they really made an impact and Amie got a real kick from drinking out of her own face. I think these were a fantastic addition to the bag because whilst everything else in it was disposable, this was a nice keepsake that everyone could take home and have as a souvenir to remember the weekend. They only cost £5 each too (unless you're ordering more than 10 in which case they are £4 each) so they aren't going to break the bank if you're organising a party on a budget. Hands down the best thing I ordered!!
Adornments:
I popped in 'team bride' badges for everyone to wear (a bargain from eBay) and to keep with the Disney theme (but in a subtle way) I added little tiaras and wands for everyone to wear in the evening too. We had dressed up in full on Disney costumes all day, so everyone wanted to glam up a little in the evening: this was the perfect way for them to do just that whilst still having a hen do feel. Amie had to wear a much more ornate crown, complete with veil, sash and huge 'Bride' badge. And of course it wouldn't be a hen do without the obligatory willy straws, sweets and balloons! I don't think you're ever too old to laugh at a funny willy.....
Have you ever organised a hen do? I'd be interested to know if you made goodie bags and what you put in them? I swear organising these actually took longer than organising the party!
Love Tor x