Hi guys,
The more I see of the new season pieces from Primark, the more my fingers start itching to hit the shops: I can't wait to hit the big Oxford Street store when I'm in London for London Fashion Week this weekend.
Although my local Norwich branch is good, it doesn't get all of the pieces I see in the look book, and I really want to get my hands on some of the prettier summer dresses. Here are some more of the press shots showcasing the new S/S pieces: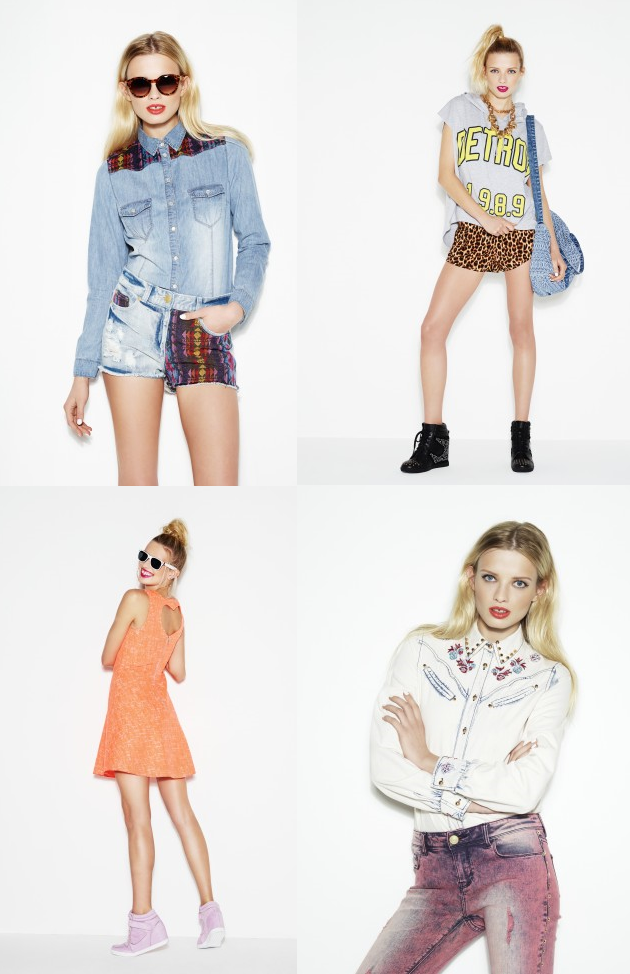 I really like both of the denim shirts, and am seriously impressed by the sunglasses, which are only £1. Things I don't like? They may be on trend but I just don't like hi tops. My motto is that if you can remember a trend from the first time round (I can!) then you're just too old for it...
The best pieces, in my opinion at least, aren't shown on the model shots: there are some great cut out shots of them though. Here are some of the pieces that I can definitely see myself rocking when Spring arrives. Unless otherwise mentioned, all of this is in store now:
Floral tapestry biker jacket, £25
Crochet fringed top, £14 (In store 1st March)
China print dress, £20 (In store 8th March)
Striped midi tube dress, £7
Red zip pocket jacket, £26
Ivory lace midi dress, £17
Embroidered patch denim shorts, £12
What do you think of the new season collection from Primark? Are you a fan of the youthful urban theme and styling they seem to have gone with for their campaign photography? And if you've shopped in Primark lately let me know, what have you picked up?
Love Tor xx
Latest on Fabfrocks at Home:
Emma Bridgewater at TKMaxx for Comic Relief
Latest on Fabfrocks and Family
:
The misery of Mastitis