Hi guys,
One of the emergant trend from this month's spate of Fashion Weeks for A/W13 is neon. We saw it at Henry Holland, and neon detailing (even for nails and make up) was everywhere.
So this season's neons aren't going anywhere: meaning if you buy seasonless pieces, they're the perfect investment that you can wear now, and still be wearing this time next year. Think neon jewellery, ballet pumps and lightweight, layerable shirts and tees.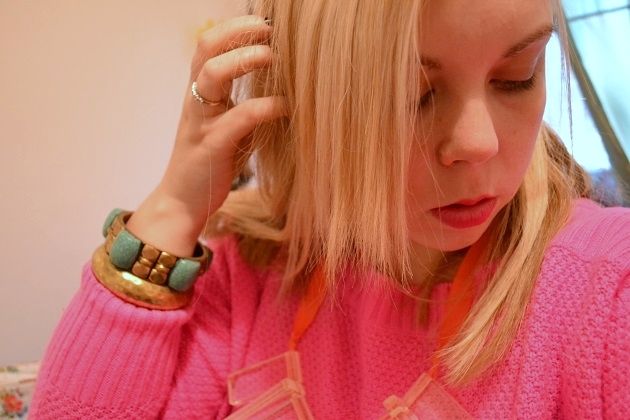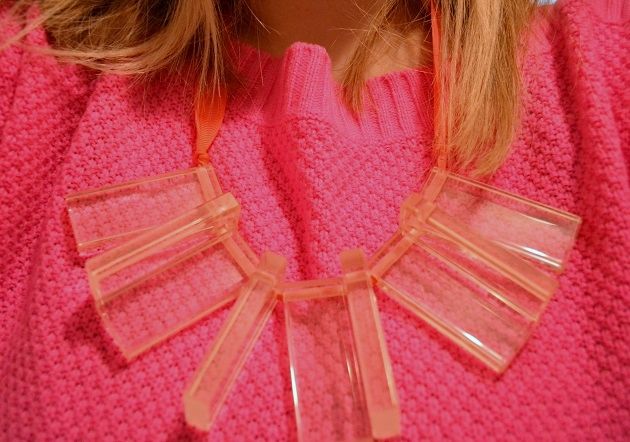 Pink jumper, Gap. Perspex and orange necklace, H&M. Pink lipstick, Dior. Bracelets, both Topshop.
The best thing is, the current love affair with neon isn't even a new Spring/Summer one. It actually started last year, which means there were, and still are, plenty of fluro neon items to be had in the January and end of season sales. I picked up my neon pink jumper from the Gap sale at the end of January for just £15. And I just ordered a great pair of neon detail sandals from
Sarenza
to keep me on trend all summer too.
Make up-wise, I think neon is difficult. I certainly wouldn't feel brave enough to wear a neon eyeshadow or (gulp!) neon mascara. But neon lipstick can look great: this neon pink lipstick from Dior has a high gloss shine that makes the colour pop even more, and really draws attention to your lips.
Admittedly, it isn't a trend for the fainthearted. But the benefits of wearing neon are multiple! It instantly makes you look tanned (I don't know how, but it does!), appear on trend with very little effort, and a little bit goes a long way: even a neon cuff is enough.
What do you think of the neon trend? Would you wear neon, or is it just a little bold for you?
Love Tor x