A recent worry about my severe lack of savings coupled with a new 12 months plan for the bf and I to stop renting and start buying
and
my decision to get the phd I have been planning since I finished my Masters nearly two years ago (breath!!) means that I have had to reassess the way I shop and spend.
I think about a third of the new things I buy every month are featured on the blog, but I guestimate that around £400 a month disapears from my purse to the British high street. That's around £5000 a year! Not only is this silly and unrealistic, it is also impossible to maintain that and have all the other, more important, things I want. So I have made the unprecedented decision to (drum roll please) buy quality not quantity, purge my wardrobe of all the things i've bought and never worn, build a solid wardrobe of classics (hopefully in the january sales) and by January 31st to have STOPPED SHOPPING. I don't know if i'll be able to do it, but i'm really determined to give it a go. I don't
need
to buy half the things I buy, so i'm just going to stop. Having you guys monitor my spending and shame me when I shop will also be a good incentive! (unless of course I win the second best job in the world, in which case I will be shopping, guilt-free, and noone can stop me!!)
The first thing I decided my wardrobe needs for its new harder working ways is a perfect little black dress. I love black, and wear it nearly every day! There is a reason the LBD is a classic and that's because its easy, flattering, and so versatile.
A closer inspection of my wardrobe however revealed that I don't need to shop for a little black dress at all: I have 5 really great ones, and once I
get out
of the frame of mind that it is a bad thing to wear the same dress twice, they can start working for me harder than ever before. Here they are: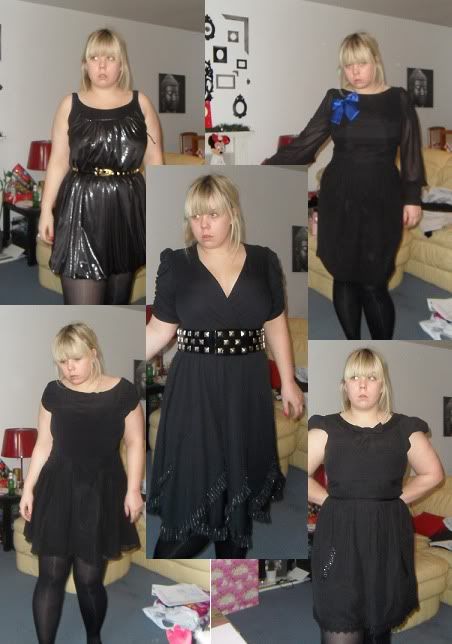 They range in quality from vintage to Topshop to a self-modified Primark number too. The cut of each might not be "in vogue" but I think its more important to dress for your figure, so almost all of my dresses are high necked to minimise my bust and nipped in at the waist because my figure is fairly hourglass. The exception is the 80s dancing dress which I rarely wear because it's so dressy, but I love the way it looks!
I have also kept half a dozen other evening dresses, but my favourtie 3 are: a white sequinned French connection one, an electric blue low cut one from Dorothy Perkins and a black and gold sequinned one from Miss Selfridge. Obviously I would love to own a beautiful timeless designer lbd, but I think these ones will be perfect, so that I can save my money for other things on the list that I don't own at all. I know a capsule wardrobe demands only 1 evening dress, but i've kept 11 and got rid of around the same number: I call that progress!!

Next thing on my list I think is a flattering breton tee: perfect to clash with another pattern or wear simply with my favourite colour: black! What are your wardrobe staples? What things do you think I need in my wardrobe that I will wear and wear again?
Love, Tor xx