Last night I enjoyed one of the best events I have ever been to thanks to this blog. But before I tell you all about it, i'll get "the business" out of the way first: the winner of the Aussie competition is Make do Style Kate. Aussie will be in touch next week to let you know what the prize is; I hope it's a good one - I haven't even been told what it is yet! Those guys are so mysterious!
So back to last night: Aussie organised a Girls Night Out at Mayfair club Mahiki. As always, my sister Amie accompanied me as my VIP guest and we spent our night partying with all the other Angels, particularly Jenny (
the Style PA
) and her wonderfully entertaining VIP guests.
The entertainment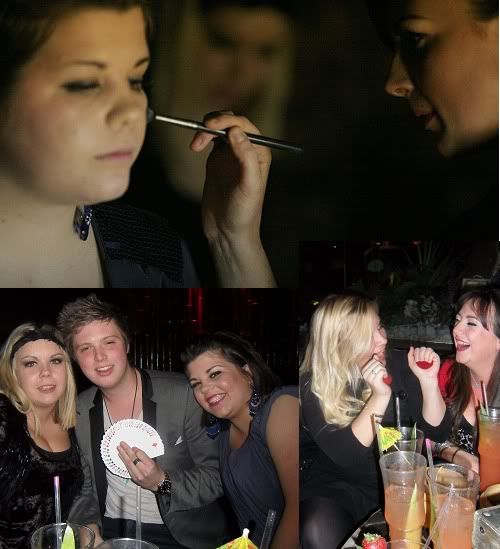 When we arrived we found a make up artist setting up, preparing to either touch up our exsisting make up or compltely reinvent our looks. This was incredibly well received and although I didn't have my make up done (due to wearing hideously long false lashes that I didnt want to fall off!) Amie did, and the results were really fantastic! About an hour later and a magician arrived: his fast hands had us all squealing and trying to work out what he'd done, and he was also very very funny and wonderfully entertaining.
The drinks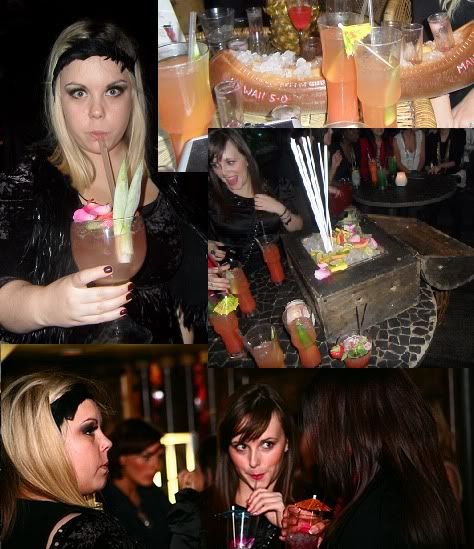 The best question would probably to ask what didn't we drink and the drinks flowed liberally all night! A treasure chest full of Champagne cocktail, a canoe full of shorts, and beautifully presented cocktails with great names! I especially enjoyed my lovers cup (though I chose to drink it myself rather than find a lover to share it!)
The goodie bag
As if the drinks and entertainment wasnt enough, the Aussie gang also gave us goodie bags: a lovely vanity case filled with Max Factor make up, and lush Aussie hair products!
The fun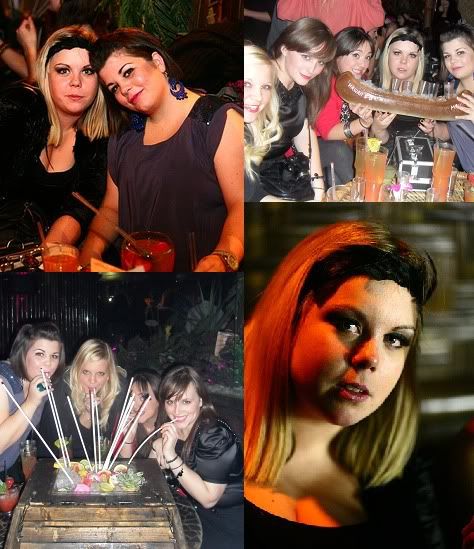 OK, so the pictures for the drinking and the fun are very similar, but the drinking was fun!! We also danced until the wee hours to some very bad cheesy music. Finally, the outfits: Amie is wearing dark denim jeggings with a sequin top from Primark. I'm wearing a velvet skater dress from Topshop with a feather and suede wasitcoat and a feathered headband.
Thanks to Aussie and the 1000heads team for a very enjoyable and well planned night!
Love, Tor x
PS - The official photographer for the evening was
Sam Whitney
: I think you can tell which photos here are his and which are mine!!
PPS - Sorry this post wasn't very faaashion, but I had so much fun that I wanted to share!