Hi guys,
Now that Wilbur is creeping up to six months old, I've decided that it's time to reclaim my body and do something about this wobbly mummy tummy. So yesterday I joined the gym. I already swim there once a week, so it wasn't too big a leap to make the commitment to hit the gym and some classes as well. But it feels like I'm doing something positive (one small step, and all that) and I have my induction next Thursday.
Wanting to wear a bikini on the beach this summer without my tummy wobbling over the top of it is my main motivation. And to further motivate myself, I've decided I need a brand new gym bag full of brand new kit. Enter a spot of virtual shopping. Because everyone knows there is no greater motivator than hitting the shops. And when I think of fashionable gym wear, I immediately think of the
Stella McCartney range for Adidas
. Here is my current lust-list from the brand: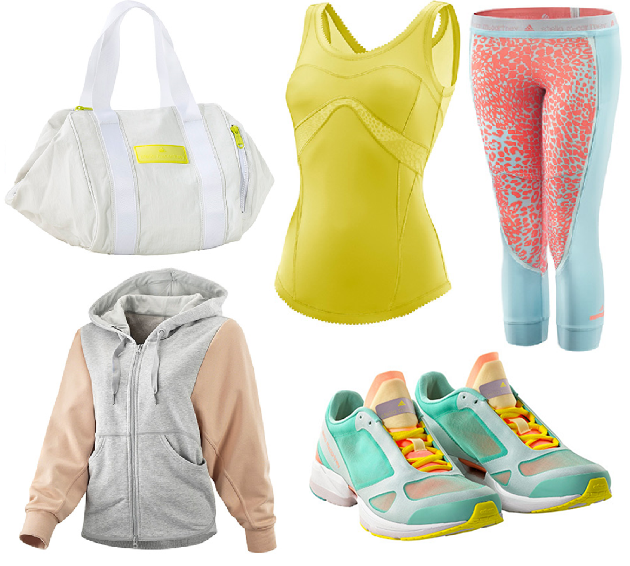 Diorite trainers, £140
Magic yellow studio performance tank, £65
Ready-to-dance bag, £90
Three quarter printed tights, £52
Essentials zip hoodie, £95
I'm not in the market for a new pair of trainers (I have a Reebok pair that I have hardly worn) but if I were, I would definitely have those neon ones: perfectly on trend! I also love that peach and grey marl hoodie: a combination of my two favourite colours (apart from black, of course!)
What do you wear when you work out? And do you have any work out clothes that you'd recommend? I'd love to hear your recommendations!!
Love Tor x