Hi guys,
I'm no real make up expert, but I do know what I like. And I try alot of products! So I thought I would show you what's inside my make up bag and what products I use every single day: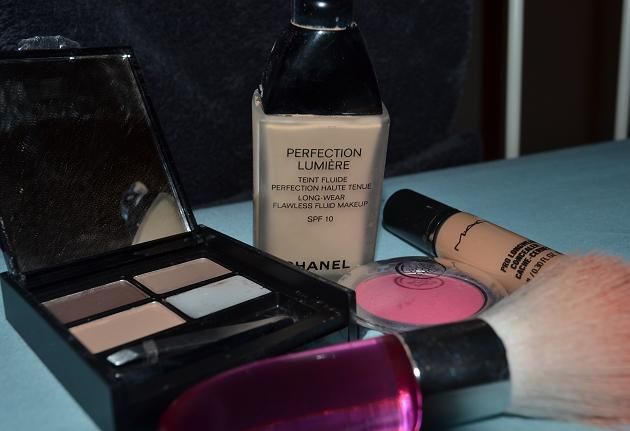 Concealer -
I use the Mac pro longwear concealer. I have horrible dark circles under my eyes, but this miracle concealer always manages to cover them up!
Foundation and Powder -
No matter how broke I am (and we all know how tempting it is to downgrade our make up when cash is tight) the one thing I couldn't live without is my Chanel perfection luminiere foundation. It's light but gives great coverage. And I always wear it with the matching Chanel sheer powder.
Blusher -
The first time I tried this Body Shop blusher it was a PR freebie - now I buy it everytime. It looks bright, but actually applies in a sheer and light way and highlights my cheekbones (OK I confess - it gives the illusion that I actually have cheekbones!)
Brow kit -
Brows are a new part of my routine: I never used to bother when I had the fringe! So this MUA brow kit is a first-time brow purchase for me. I use the darker powder to add depth to my brows and the smoothing gel to tame any flyaway hairs. I can't recommend it as the best, because I haven't tried any others, but it's working for me!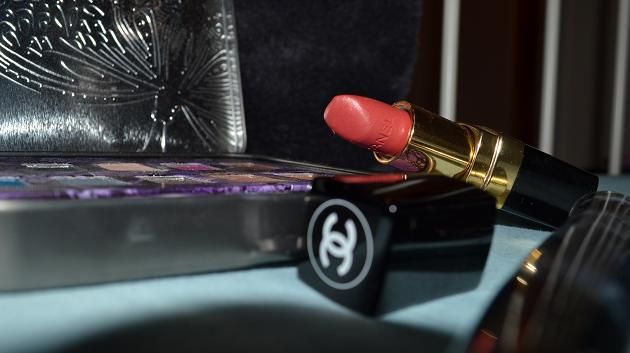 Eyeshadow -
I swear by Urban Decay eyeshadows for their depth of colour and how long they tend to last. This set was a gift last Christmas and it's still going strong. If you want the perfect smokey eye then I couldn't recommend the Urban Decay shade 'oil slick' highly enough.
Mascara -
I always used to use the YSL false lash effect mascara. And loved it. Then on one particularly broke day I instead tried the No 7 fanomenal lashes mascara. And i've been using it ever since: I think it's just as good! I am blessed with naturally long and thick lashes, so really my mascara just needs to be able to separate and emphasise my lashes and this does the perfect job.
Lipstick -
Another Chanel purchase! When I'm making a statement, or for eveningwear I always plump for a bright red lip. For daywear though I either wear no lipstick at all, or this Chanel shade, which is almost the exact same colour as my own lips: It makes me look put together without drawing too much attention to my mouth.
Of course I have loads of other products that I use occasionally - I'm ashamed to admit that when it comes to a night out i'm not adverse to a little shimmer and glitter! But these are the products that make up my everyday face, and that I find myself buying again and again.
What's your make up routine? Do you have a product you swear by and would really recommend I try?
Love Tor xx