Hi guys,
I saw
this chest
in the 'wanted' pages of this week's Stylist magazine and immediately fell in love. It's everything you could want from a piece of vintage inspired furniture, and I've already mentally given it a spot in my living room. It's made in India from Mango wood and each handle, shelf and drawer is different. I didn't even know
Oliver Bonas
did furniture! But now I do, there is hardly a single piece I don't want. Not to mention all of the trinkety jewellery and pretty feminine dresses on their site I also covet on a regular basis... But this isn't about fashion, this is about the home!
Here are some of my 'must have' pieces from their furniture collection: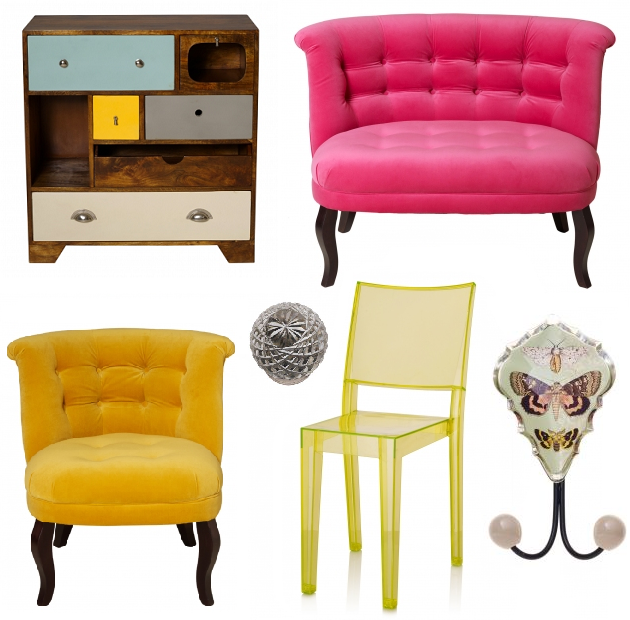 Herbert wood chest, £495
Raspberry velvet love tub chair, £545
Yellow ochre tub chair, £385
Decorative door knob, £6.50
Philippe Starck transparent chair, £149
Butterfly door hook, £16
The velvet chairs come in 3 different sizes and a matching Ottoman. They come in a dozen different colours, although the raspberry and the ochre are my personal favourites. I love that the ochre chair matches the drawer in the cabinet too: perfect for a hallway or little unused nook!
The biggest bargain on this page though is the door knob. I'm currently having a love affair with door knobs. I picked up six from a vintage shop in Horncastle (each had a different bird on it) and am planning on using them to replace the standard ones on my Ikea vanity table. Much like I always suggest changing the buttons on Primark coats to make them look more expensive, changing the handles on cheaper pieces of furniture is a sure fire way to make them look more expensive, and inject them with some personality.
Do you have any hints and tips for modifying your home on a budget? I'd love to hear them!
Love Tor x
PS - Don't forget to enter the
latest fabfrocks competition
! You could win a whole outfit from fashionpony.co.uk!