Hi guys,
My love of Lady Gaga is well documented. From
copying her make up
to
lusting after her dresses
, if she does it then I want it. I normally despise all forms of pop music, but with my hand on my heart I can say that going to see her on her last tour was one of the best musical nights of my life.
So how excited was I when I saw the sketches of the costumes for her latest Born this Way Ball tour (which hits the UK in September)? The answer is pretty damn excited: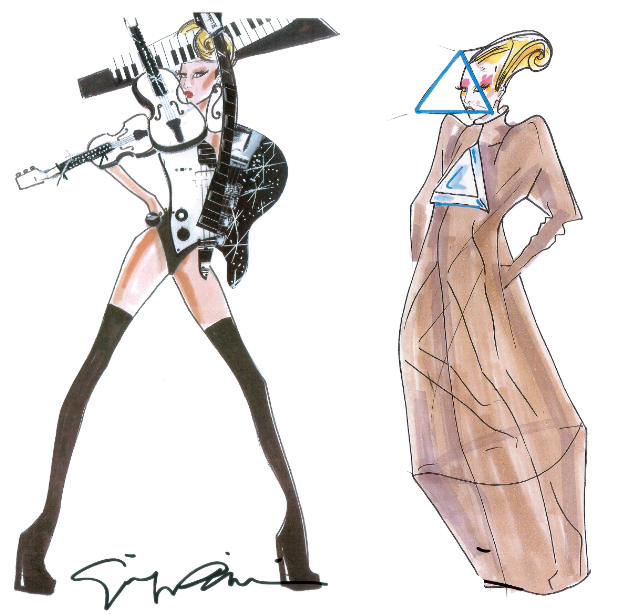 The custom Giorgio Armani wardrobe created for Lady Gaga is characterized by extreme forms and futuristic materials – latex, metal, studs, PVC – crafted with couture savoir faire. Each outfit is completed with detailed, other-worldly accessories.

The first design includes a black bodice made of tubular PVC elements connected with metal studs, with mirrored metal inserts to define a curvaceous design. The ensemble is highlighted by a matching headpiece, robotic thigh-high boots, and exaggerated gloves ending in mirrored nails.

Another look is created via a shiny black grid-patterned PVC bodice with matching headpiece and embroidered ankle boots. Highlights include shoulders outlined by a play of sharp spikes, black Swarovski jet crystals and flowing fringe, creating a moving architecture.On the third black bodice, transparent Plexiglas, black crystals and luminous studs create a Cubist composition of abstract guitars. The matching headpiece follows in the shape of a keyboard; the boots are black vinyl.

The final design is a long tunic with leg-o-mutton sleeves made of skin-toned latex. Luminous PVC elements create flashes of synthetic light inside the garment. The same avant garde lighting is featured on the triangle decorating the chest, on the headpiece, and on the platform of the matching latex ankle boots.

So what does the man himself think of his creations? "Collaborating with Lady Gaga is always an exciting experience for me. I admire the way she uses fashion as a scenic element and as a means to build a character," says Giorgio Armani. "She is an artist of many talents and great intelligence. Creating stage costumes for her is a stimulating and creative exercise." And what do I think? Well I have only two words: "Yes please!"

I can't wait til Gaga lands in London in all her glory!

Love Tor xx