Hi guys,
September (fashion's finest month) is so nearly upon us! And I am excited; bar Christmas, it's my favourite time of the year. September always feels like a month of fresh starts. I think its a hangover from being at school and university when September meant the end of summer, heading back to work and buckling down! It's also a huge fashion month, meaning that there is no better time or excuse to head out and buy new season clothes. I always tend to refresh my work-wardrobe for September too and, on that subject, here are a few work-wear shopping thoughts:
Style Staples
Everyone has set style staples they couldn't live without. For some this will be the perfect trousers, for others a little black dress. Because I am a casual work dresser, for me it's a pair of dark skinny jeans and a well fitting blazer. Choose your staples by defining your style and shop to suit you. If you're not a dress wearer don't buy one simply because you feel you should; you'll only waste your money when it sits in your wardrobe unworn for months!
Shoes
When shopping for new work shoes I'm afraid that I have to be boring and practical, and point out that gorgeous flat pumps are a much better purchase than stiletto heels. Although Leo Claims rightly point out that a
work accident
can happen anywhere (whether you work in a factory, shop, or for yourself like me) I don't think you can get away with calling a fall off heels a work accident even if you do work in fashion; although I have fallen off my heels and twisted my ankle before and it bloody hurts! Stick to flats or low heels you can actually walk in.
Find the Perfect Coat
If I could only give one piece of advice for dressing in the winter then it would always be to spend decent money on a well fitting coat that you really love. You'll wear your coat everyday, all winter long, so make sure it fits you properly, is in a colour that compliments your skin tone, and looks really good on you. I have a wardrobe full of coats (they're my weakness) and I always feel more confident and happier when I'm wearing one.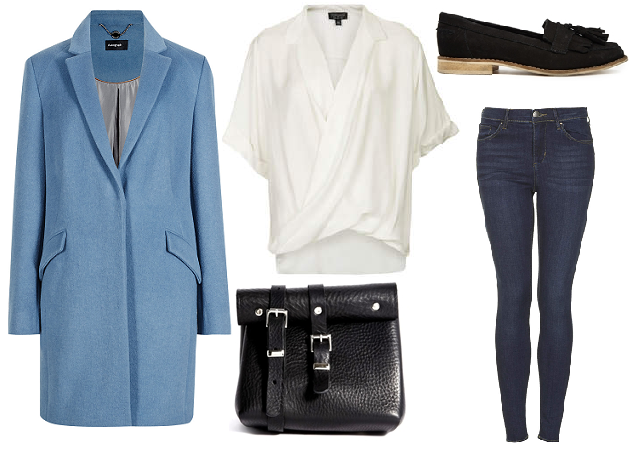 Wool blend coat, Marks and Spencer, £129
Leigh jeans, Topshop, £38
White blouse, Topshop, £34
Flat leather loafers, ASOS, £34
My work wear looks pretty much the same as my casual wear: the joys of freelancing. I'm sure if you're a lawyer or an accountant your staples selection would look very different. All I need to add is a smart black handbag (with plenty of room for notes and my iPad) and a slick of red lipstick. Do you have any top tips for work dressing in the winter months? And do you tend to refresh your wardrobe in September or at another time of the year? I can't wait to hit the shops and get started!
Love Tor x